After months of standing on your feet all day, are you desperate for a new pair of shoes? You're not alone! One of the best things you can do for yourself is to invest in some good footwear. Teacher shoes have got to be comfortable and durable, so we asked real educators on the WeAreTeachers HELPLINE Facebook group to share their recommendations. Here are their top choices for the most comfortable teacher shoes, from flats and pumps to sneakers and sandals.
ADVERTISEMENT
(Just a heads up, WeAreTeachers may collect a share of sales from the links on this page. We only recommend items our team loves!)
The Best Shoes for Teachers 2022
1. Allbirds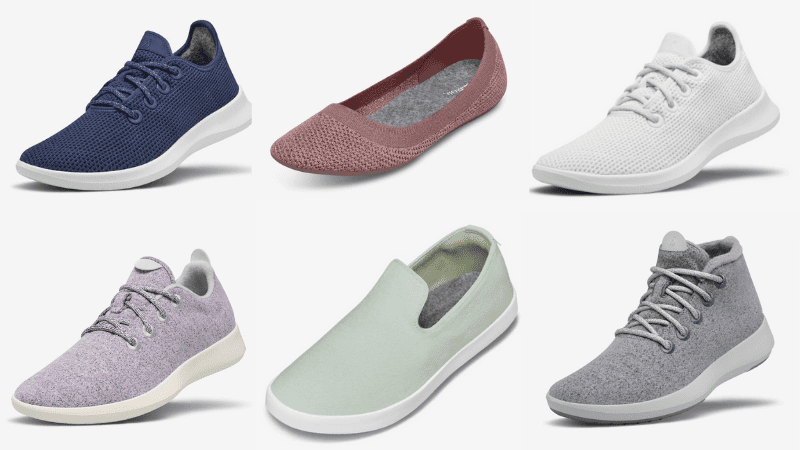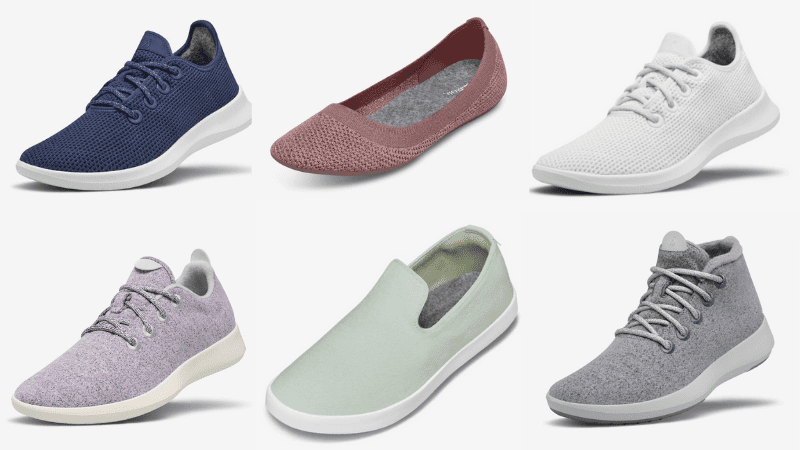 We consistently hear from teachers—both women and men—who love their Allbirds. They're ultra-comfortable, plus they're made with planet-friendly natural materials. Kindergarten teacher Keri Brown says, "Wearing my Allbirds, it felt like I was walking on clouds." Check out her full review of Allbirds Wool Loungers.
We recommend: Women's Tree Breezers (ballet flats), Women's Tree Loungers (slip-on), Women's Wool Loungers (slip-on), Women's Tree Runners (lace-ups), Women's Wool Runners (lace-ups), Men's Tree Runners (lace-ups), and Men's Wool Runner-Up Mizzles (high-tops)
2. HOKA One One


This is another popular brand that gets a ton of mentions any time we ask teachers about comfy shoes. Tracy W. raves, "I wear Hokas every day at this point. I have 3 pairs and rotate through them." Alayne P. adds, "It's like walking on a cloud!"
We recommend: HOKA Clifton 8 and HOKA Hupana Flow
3. Hot Chocolate Chocolaticas


Could there be any teacher shoes cuter than these? They're comfy on their own but also have room for your own insoles if you need a little more support.
We recommend: Chocolaticas Mary Janes and Chocolaticas Slip-On Flats
4. UGG Shoes


You're probably familiar with the ubiquitous UGG boots, but they make plenty of other comfortable shoes too. "They actually sell really cute other styles," says Krit S.
We recommend: Rianne Booties and Cahlvan Sneakers
5. Sanuk Slip-Ons


"I'm obsessed with Sanuk's shoes with footbeds made from yoga mats. Foot heaven! I even got my husband (he's a teacher, too) into the men's Sanuk line." —Tonia K.
We recommend: Women's Pair O Dice Loafer Flats and Men's Shaka Shoes
6. Hey Dude Shoes


Struggling to find shoes for wide feet? Give these a try. They're made with a rounded, flexible toe space and have stylish options for men and women. Janet S writes, "I could teach in them every day!"
We recommend: Women's Wendy Shoes and Men's Wally Sox Slip-On
7. Clarks Pumps


"I don't know what I will do if Clarks stops making their pump style. These look as good with jeans as they do with skirts and can even pass as a heel on days I need to dress up. They are so comfortable, too." —Sharon S.
We recommend: Emslie Warbler Pumps and Linnae Pumps
8. Dansko Flats


Teachers love Danskos! "I've worn the Dansko brand for many years, and they're a great option." —Michele H.
We recommend: Franny Flat and Karen Slip-On Mary Jane
9. Amazon Ballet Flat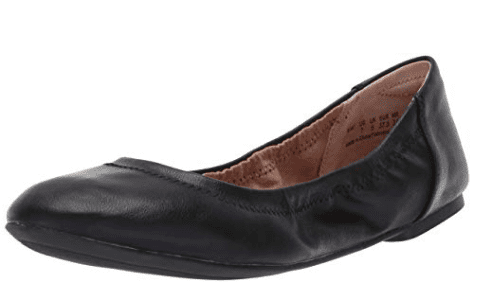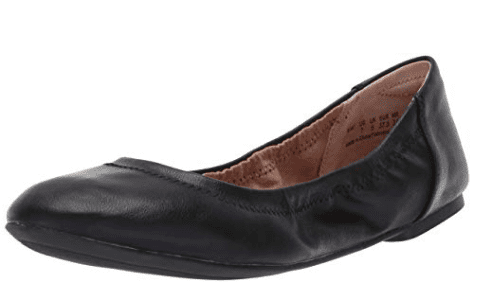 Dara K. tried these and really loves the price (under $25). An Amazon reviewer agrees. "I am a public school teacher who stands (and sometimes runs) 9+ hours a day while at work. These shoes are insanely comfortable and did not need any 'breaking in.' They fit like a well-worn and loved ballet slipper from the first moment I put them on."
We recommend: Amazon Essentials Women's Ballet Flats
10. Lucky Brand Shoes


Kristi B. writes, "I swear by Lucky Brand shoes! All of my teaching shoes are Lucky!" And here's a five-star Amazon review: "I love these boots. I can wear them all day at work. As a teacher, that speaks volumes!"
We recommend: Basel Ankle Bootie and Alba Ballet
11. Skechers BOBS Shoes


Beth D. says she loves BOBS shoes with inserts (check out our list of the best shoe inserts). Plus, we love all the different (and affordable) options. Look at that puppy print!
We recommend: Slip-On Flat and Slip-Resistant Loafer
12. Skechers Microburst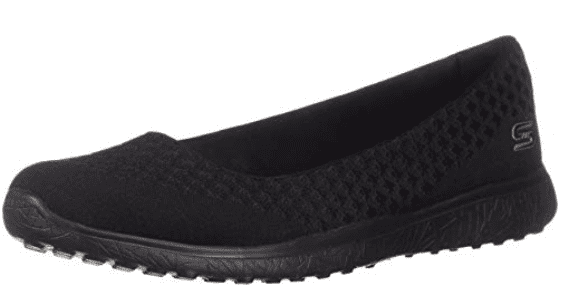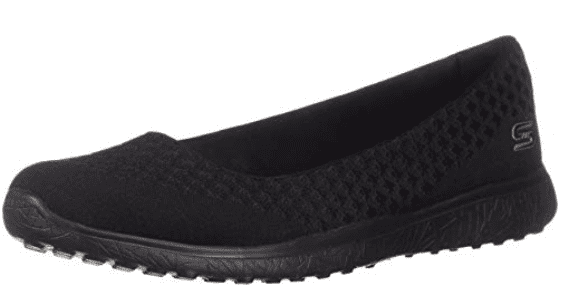 You're going to see Skechers on the list a few times, and it's because teachers keep recommending them to us over and over again. Here's a great slip-on to consider, backed by this review: "I am a teacher, constantly on my feet. These shoes are perfect for such an active job. They have the feel of a tennis shoe and the look of ballerina flats."
We recommend: Skechers Microburst
13. BZees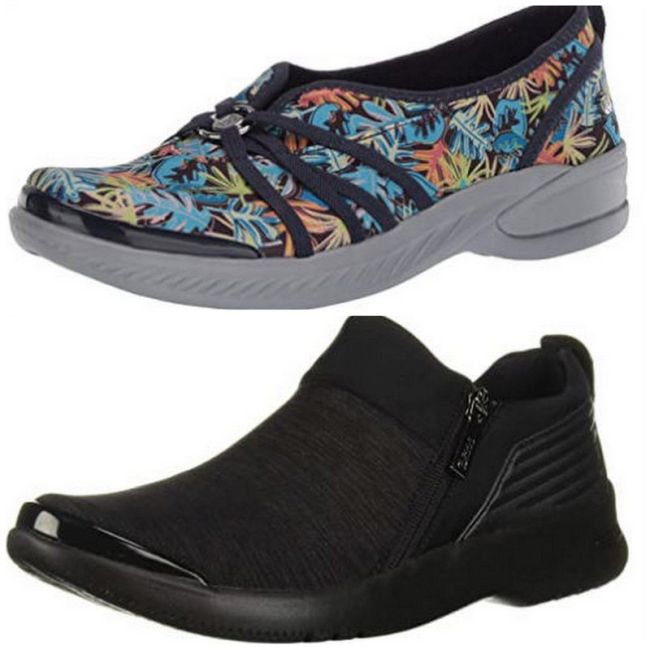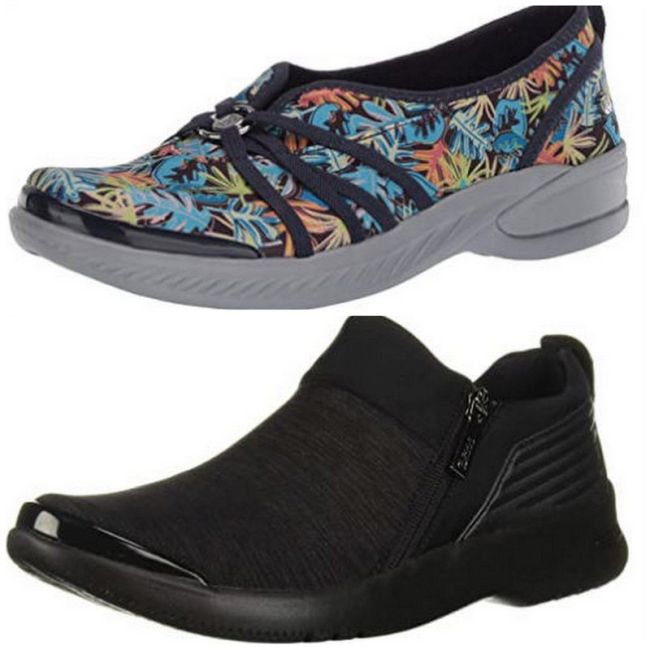 "BZee shoes by Naturalizer are absolutely amazing!!! Not only are they comfy beyond description, they're also machine washable!" —Kathy H.
We recommend: Niche Ballet Flat and Axis Sneaker
14. Keen Shoes


Keens are solid go-to teacher shoes for men and women. If you live in a warm area, you can wear their sandals year-round. Otherwise, keep an eye out for other Keen boots and slip-ons like these.
We recommend: Keen Sienna MJ Canvas Shoes
15. Dream Pairs


When you need a more formal shoe for awards days or open houses, these low-heeled pumps fit the bill. "Great work-to-evening shoe, even for a teacher," notes one Amazon reviewer. "These are extremely comfortable and stylish!" They also have sleek flats for those who prefer to go without any heel.
We recommend: Dream Pairs Women's Moda Pointed Toe Pump and Dream Pairs Classic Ballet Flats
16. Rockport Men's Shoes


This is a brand that's long been trusted by many who wear men's shoes. "All my shoes for school are Rockport. They never let me down." —John M.
We recommend: Rockport for Men
17. Ollio Oxford


They come in multiple colors, and you can dress them up or down. "I'm always wearing these oxfords, and they're affordable." —Roxanne M.
We recommend: Ollio Ballet Oxford
18. LifeStride Shoes


This real teacher review from Amazon tells you everything you need to know: "I am writing this review as a teacher who walks and stands from 8 a.m. to 1 p.m., with a mask on, teaching active second-graders in the time of COVID. It is great that I don't have to worry about my shoes."
We recommend: LifeStride Elektra and LifeStride Zora
19. Dr. Martens


"I love my (clean and well-polished) Doc Martens," Olivia C. says. "Very comfortable and as professional as I need to be." Check out this rave review from Amazon: "I am a 50-year-old female school teacher. I wasn't sure I could pull off wearing these to work. Let me tell you, these are the best shoes I have purchased in a very long time! They are so incredibly comfortable. I wore Docs back in the '90s. I'm so glad I get to enjoy them again. Buy the shoes! You won't regret it!"
We recommend: Mary Jane and Men's 1461U
20. Born Shoes


Katie R. works at a shoe store, and she says she always recommends the Born brand of shoes for people who need good support. The Julianne is super-cute and comes in a variety of colors, and check out the fringe on their Danni boots!
We recommend: Born Julianne and Born Danni
21. Earthies Shoes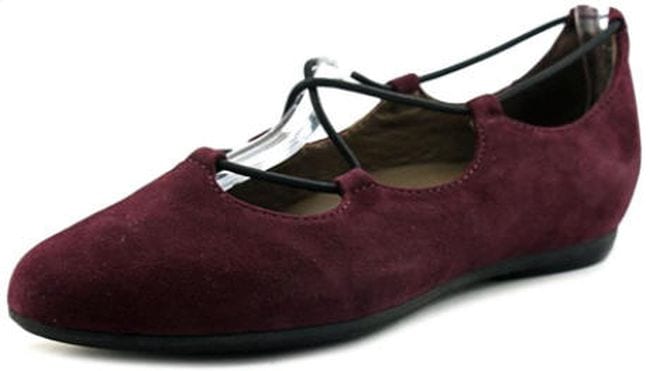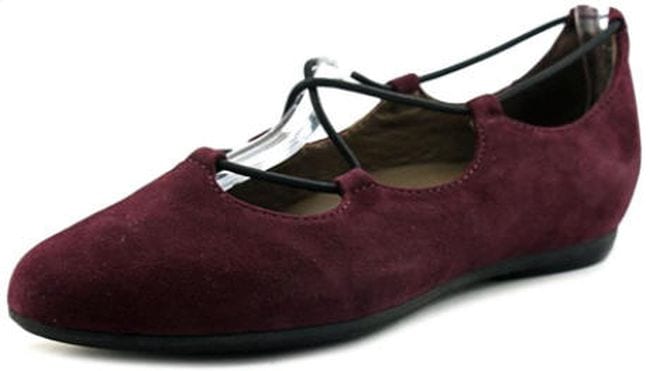 We've heard from many teachers on Facebook that they like the Earthies brand of shoes. Here's one teacher's opinion: "I love these shoes! I have plantar fasciitis, and these are the only flats I can wear and not have any pain. I'm a teacher, so I am on my feet all day. I can wear these, and when I go home, my feet feel the same as they did when I went to work. It's amazing!"
We recommend: Essen Flats
22. UIN Painted Canvas Slip-Ons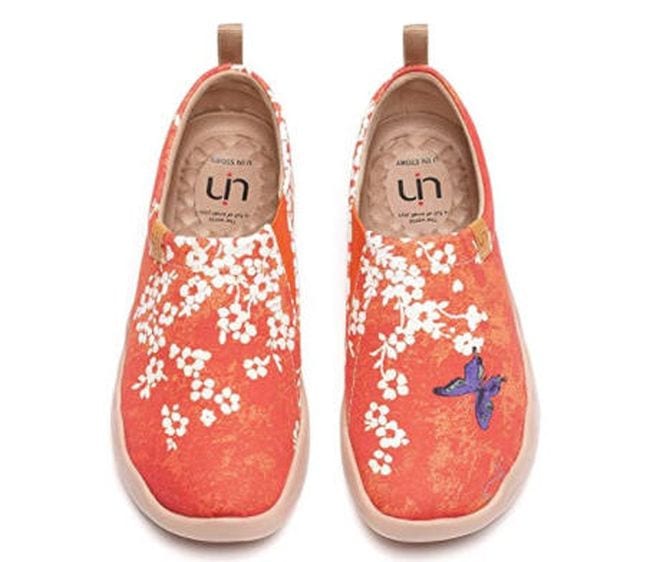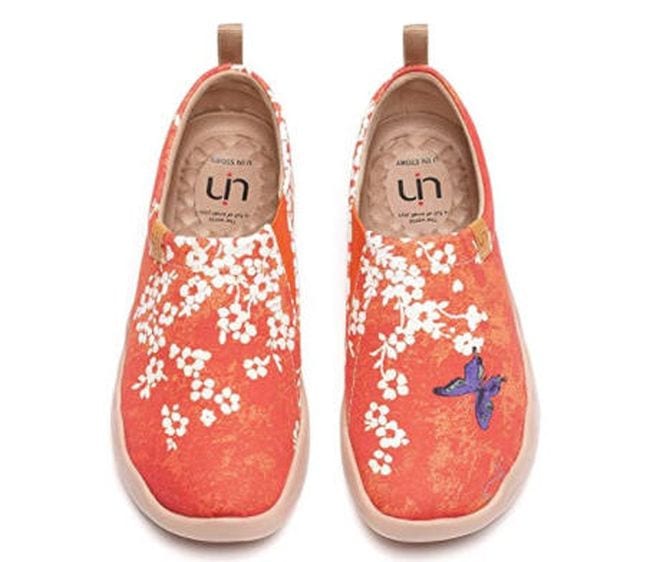 Looking for comfy teacher shoes to show off your personality? These come in a huge selection of fun colors and designs. And they're well reviewed too: "I absolutely love these shoes! They are uber-comfortable, and I get compliments on them wherever I wear them. I've worn them teaching and setting up a classroom and have spent a lot of time on my feet. These did not disappoint me!"
We recommend: UIN Painted Canvas Slip-Ons
23. Crocs Flats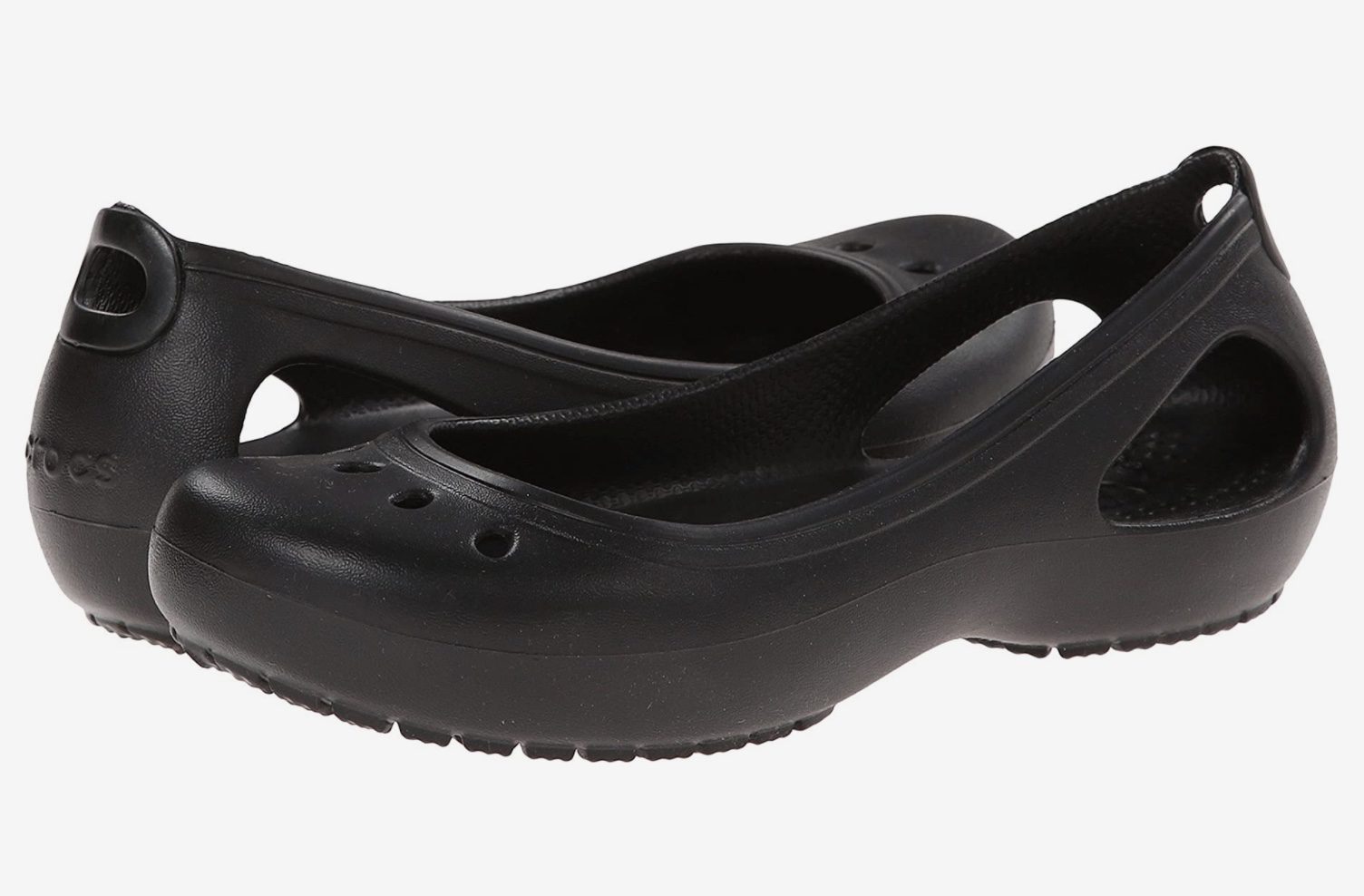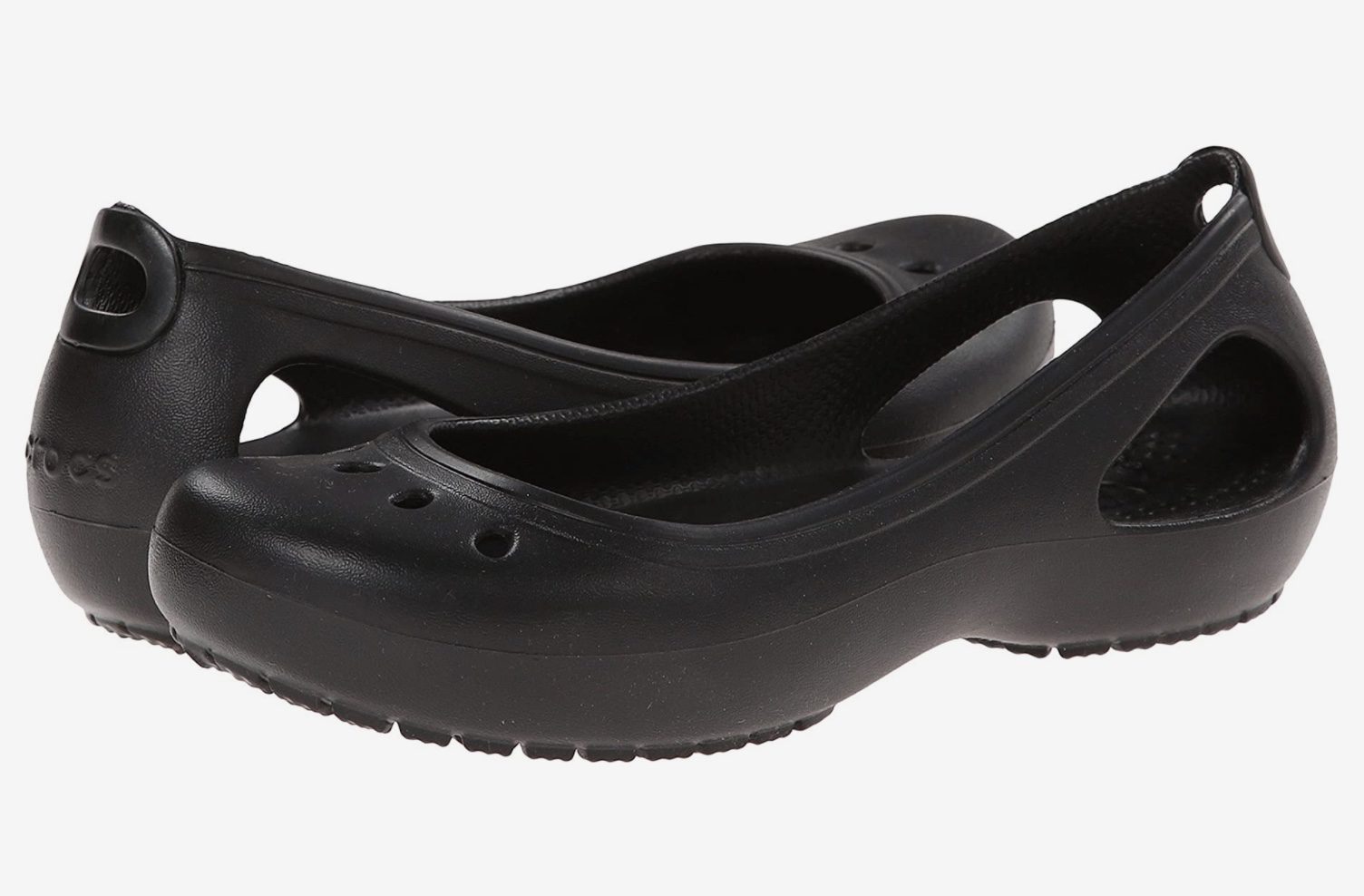 Yup, those Crocs! Turns out they make all sorts of styles that are just as comfortable as their well-known clogs. "I have Crocs flats in every color and print." —Amy C.
We recommend: Sloane Flats
24. Dr. Scholl's Shoes


"I have arthritis in my hips, sciatica, and plantar fasciitis, and I live in Dr. Scholl's," Amy Y. told us. The Giorgie ballet flats come in classic black and brown, or you can dress things up with the aptly named Ruler loafers.
We recommend: Dr. Scholl's Giorgie and Dr. Scholl's Ruler
25. SafeTstep
Shannon H. likes this line of slip-resistant shoes made for food-industry workers. There are some downright cute styles available.
We recommend: SafeTstep Shoes
26. Merrell Clogs


"I wear Merrell clogs all winter," shares Brenda W. We can see why! They're comfy but professional enough for the workplace.
We recommend: Encore Kassie Buckle Slide Clogs and Juno Suede Clogs
27. Timberland Pro


"I like the Timberland anti-fatigue clog," Denise A. told us. Timberland's Pro line is meant to protect and support your feet all day long.
We recommend: PRO Riveter
28. Rothy's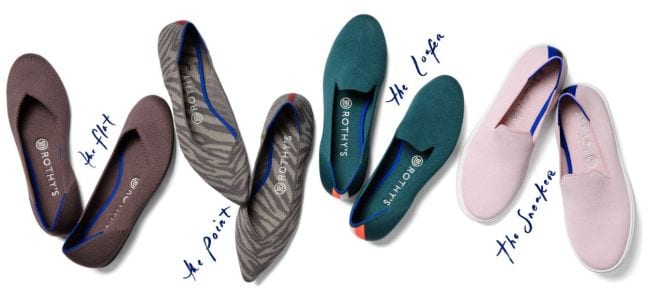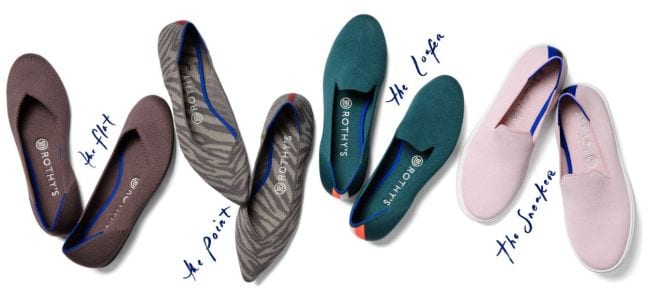 This is another brand that many teachers love and one you can feel good about. These adorable and comfortable shoes are made from recycled water bottles—a lesson in sustainability. Yes, they can be pricey, but teachers do get a discount.
We recommend: The Flat and The Sneaker
29. Vans Leather Slip-On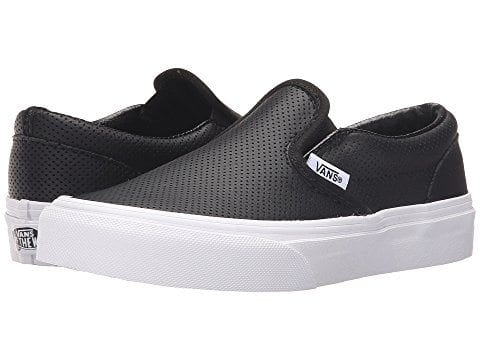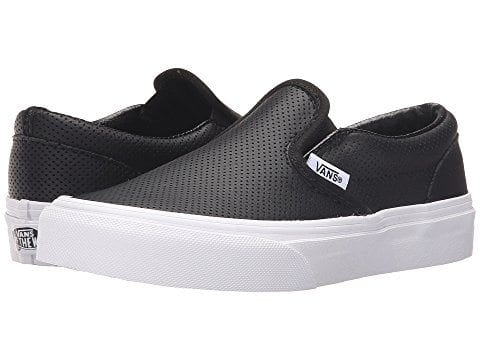 "My go-to is the Vans slip-on in leather. It's a weather-resistant sneaker with great arch support that looks stylish and polished but feels like the weekend." —Chris C.
We recommend: Vans Classic Slip-On Leather
30. Earth Origins


We see this brand shoe popping up again and again for great shoe recommendations, and these are two of our favorites.
We recommend: Raveen Bootie and Fara Flat
31. Alegria Shoes


"My mom swears by shoes called Alegria. They have a slightly rounded bottom to take pressure off your heels. She works on her feet all day and loves them." —Rachel P.
We recommend: Alegria Paloma Flat and Alegria Taylor Flat
32. Clogs from Klogs
Sandy H. says, "Last year, I bought some clogs from Klogs. They are amazingly comfortable." This brand is made for nurses, but they make great teacher shoes too.
We recommend: Klogs Mission Clog
33. Converse Slip-Ons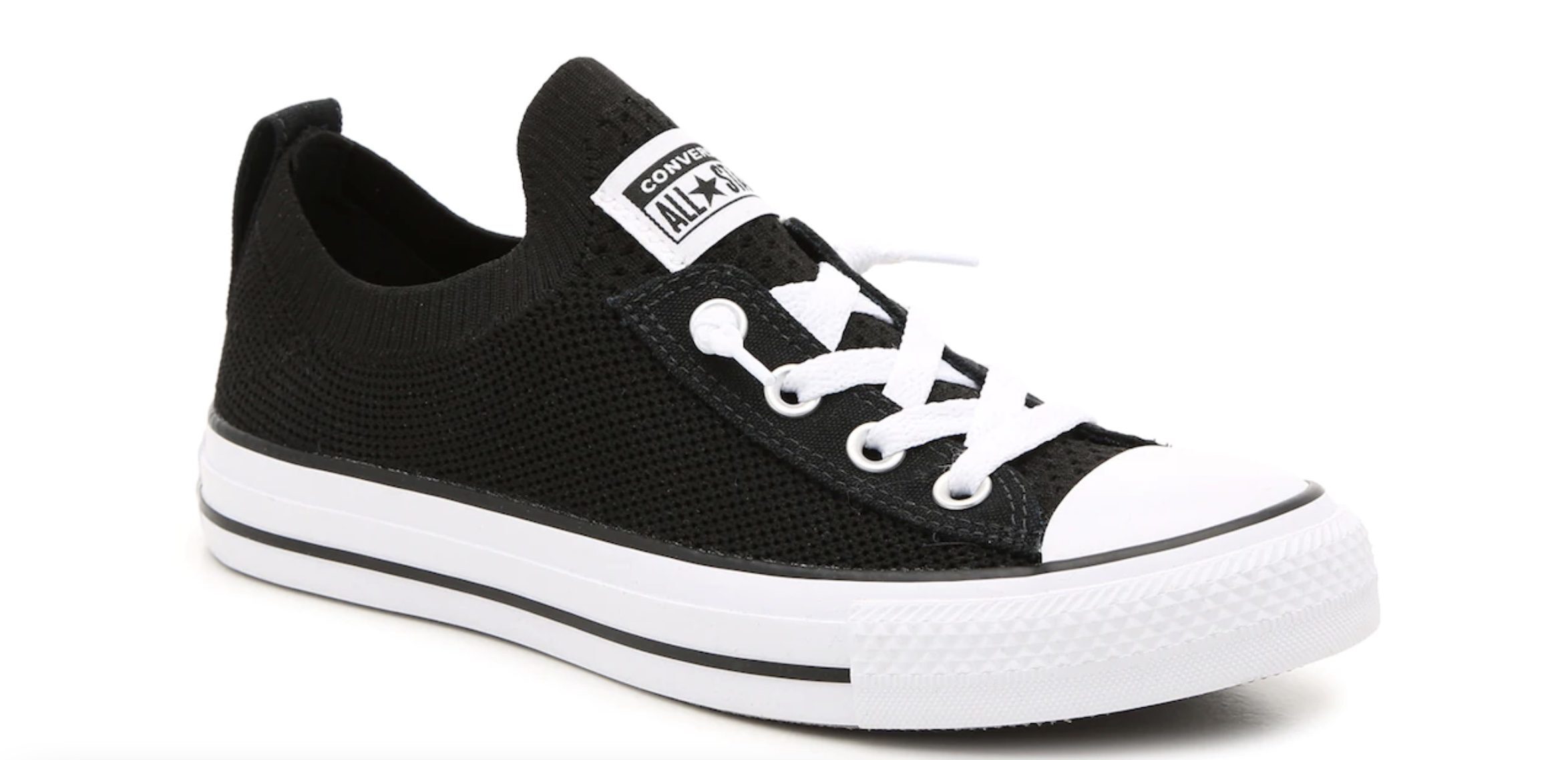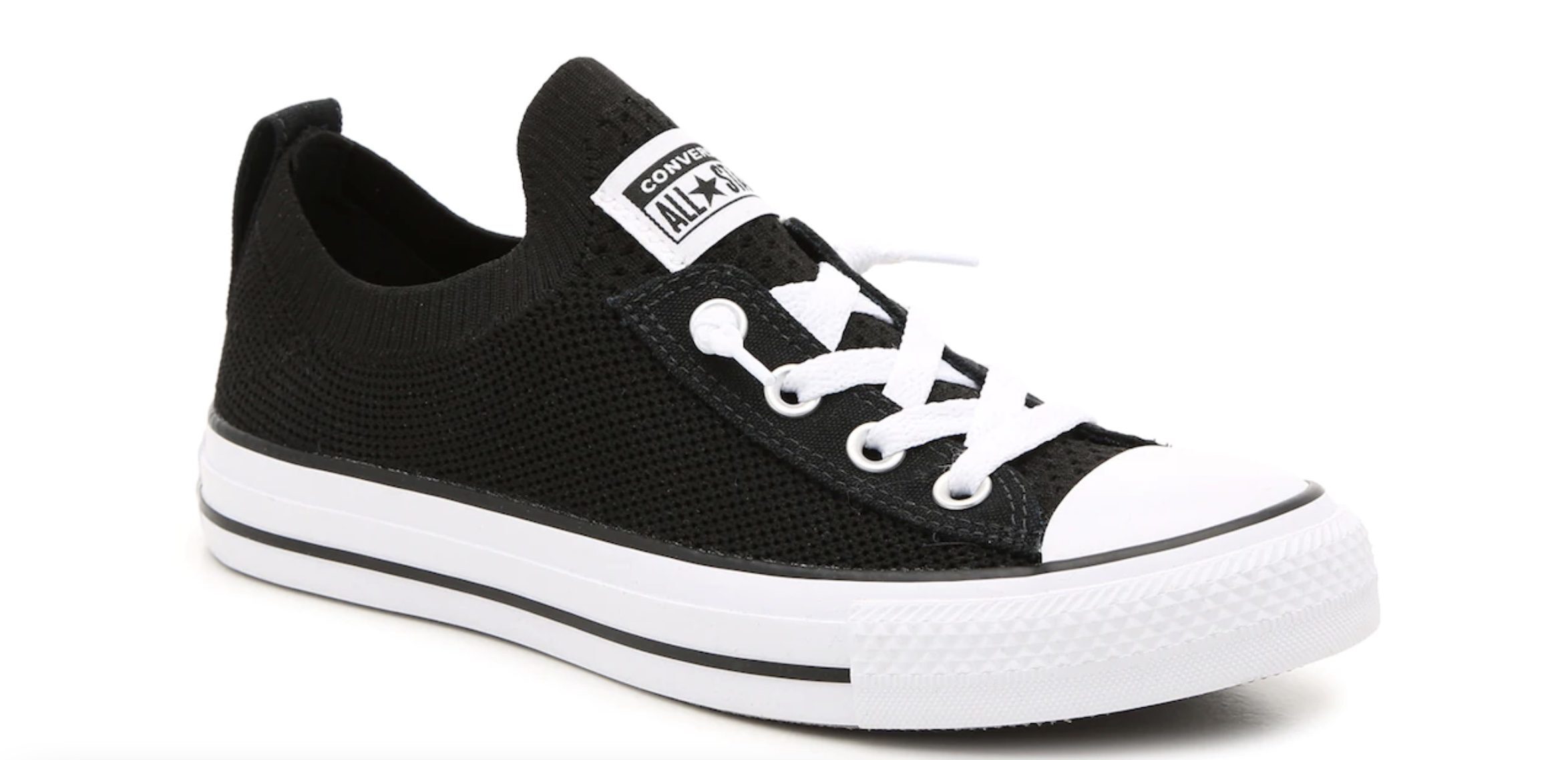 Sometimes, you just have to go with a classic. "I've tried dozens of shoes, and Converse were finally the fix for me. Now my feet don't hurt." —April S.
We recommend: Shoreline Knit Slip-On Sneaker
34. Adidas Cloudfoam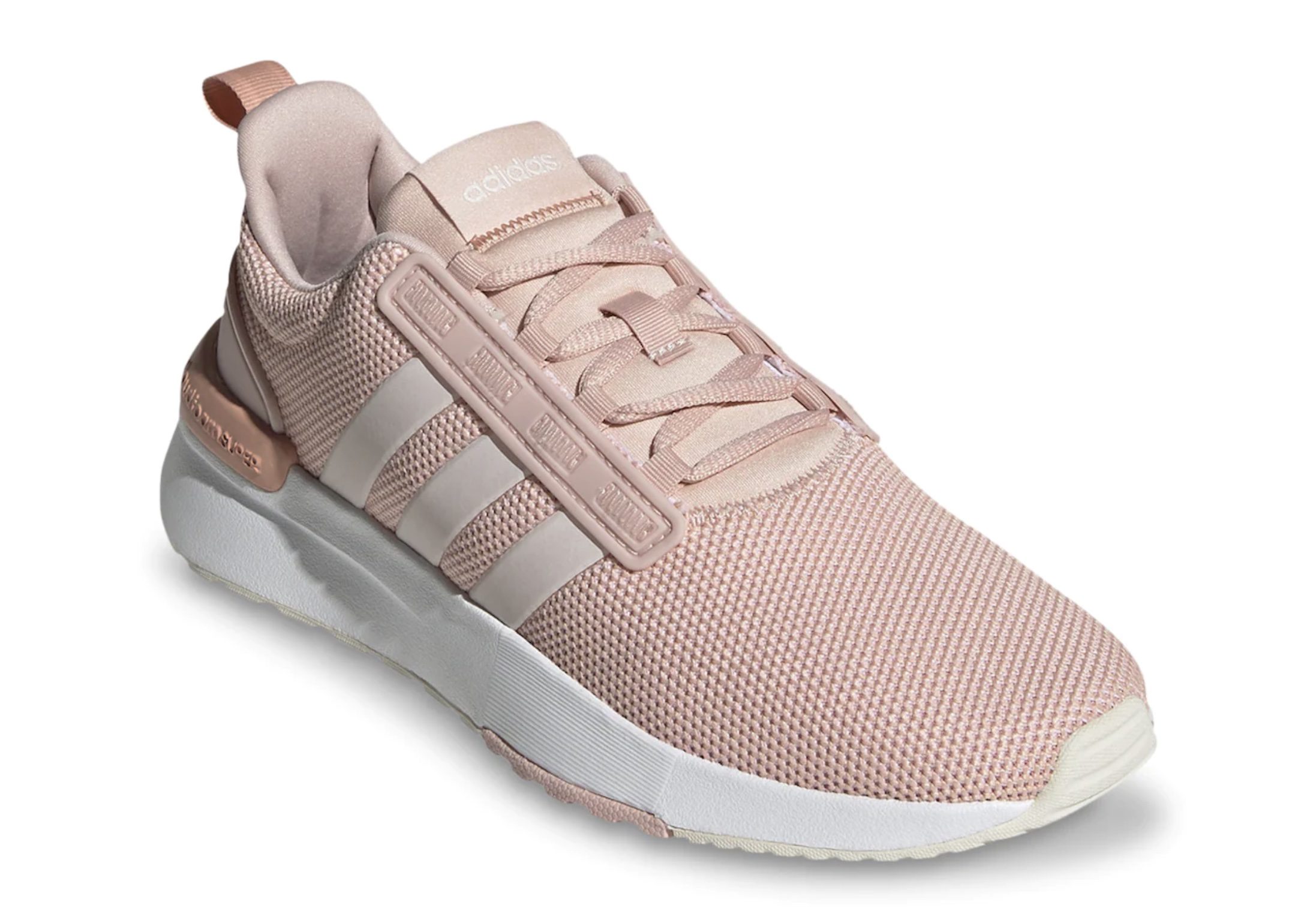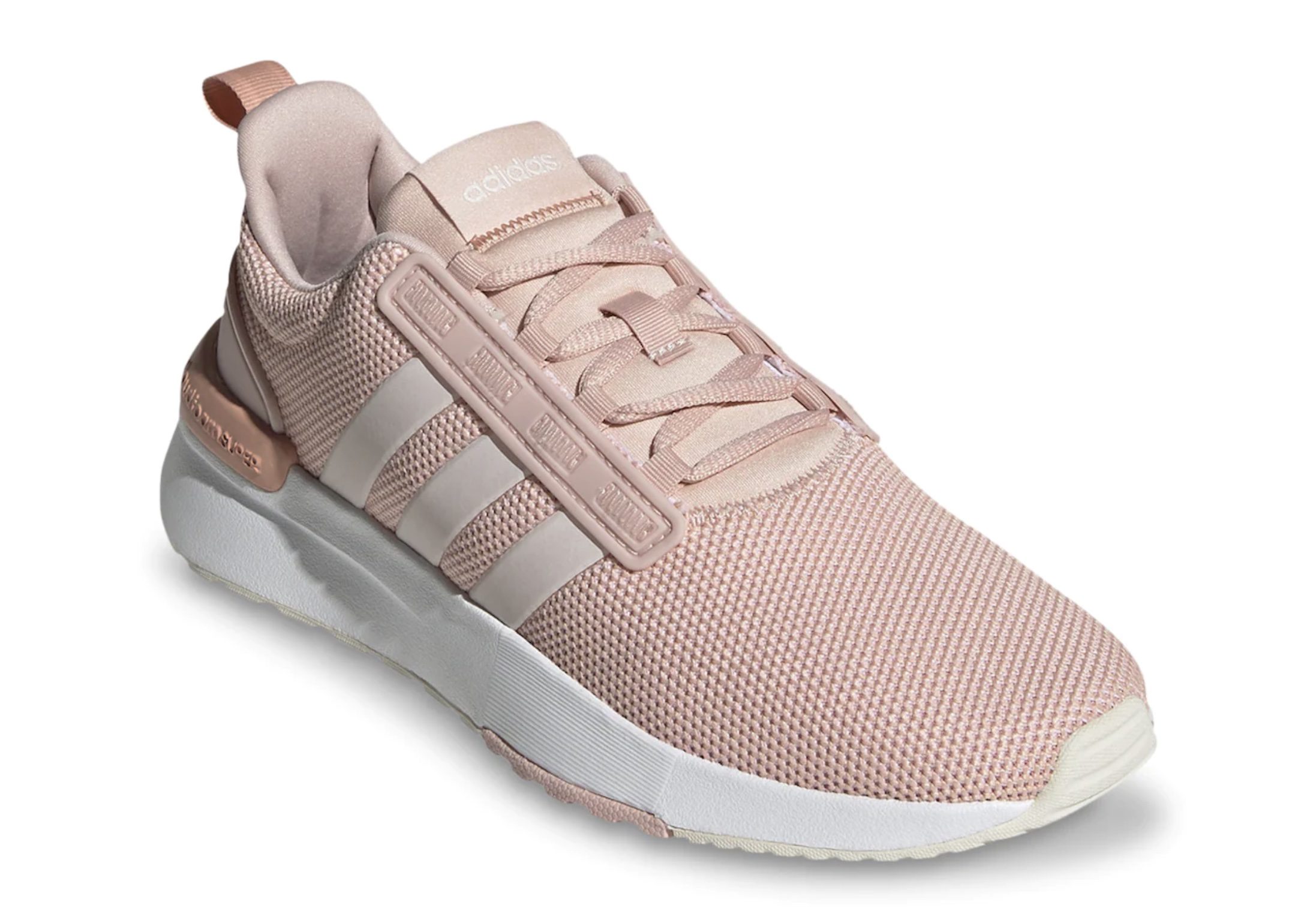 Here's another classic sneaker that has tons of fans. "Adidas has a comfort line that I love," says Aimee B.
We recommend: Adidas TR21 Sneaker With Cloudfoam Sole
35. Reebok Sneakers


The vintage style on these timeless sneakers for men and women can pair easily with any cute teacher outfit while keeping your feet pain-free.
We recommend: Club C 85 Shoes for Women and Club C 85 Shoes for Men
36. Asics Sneakers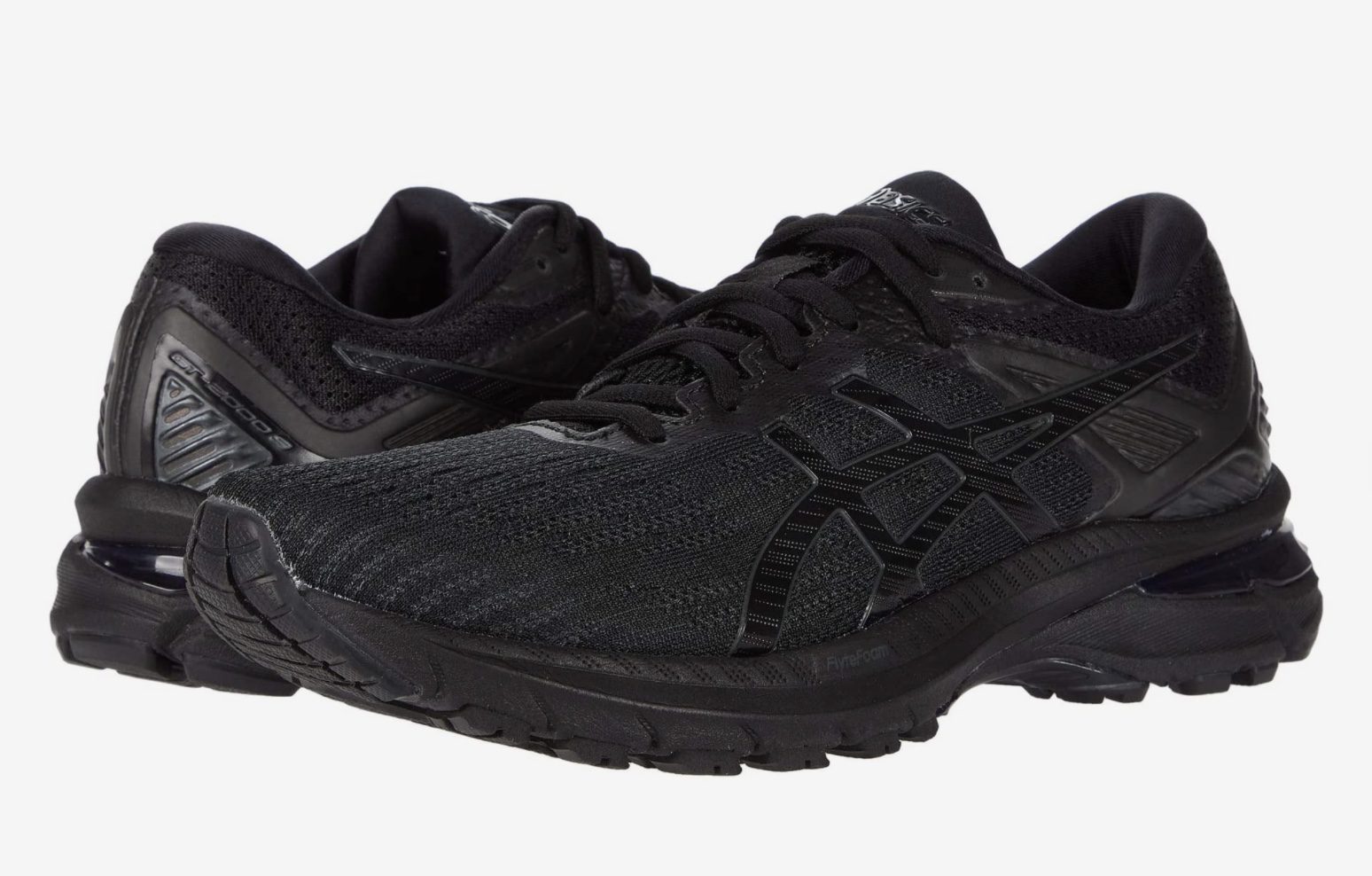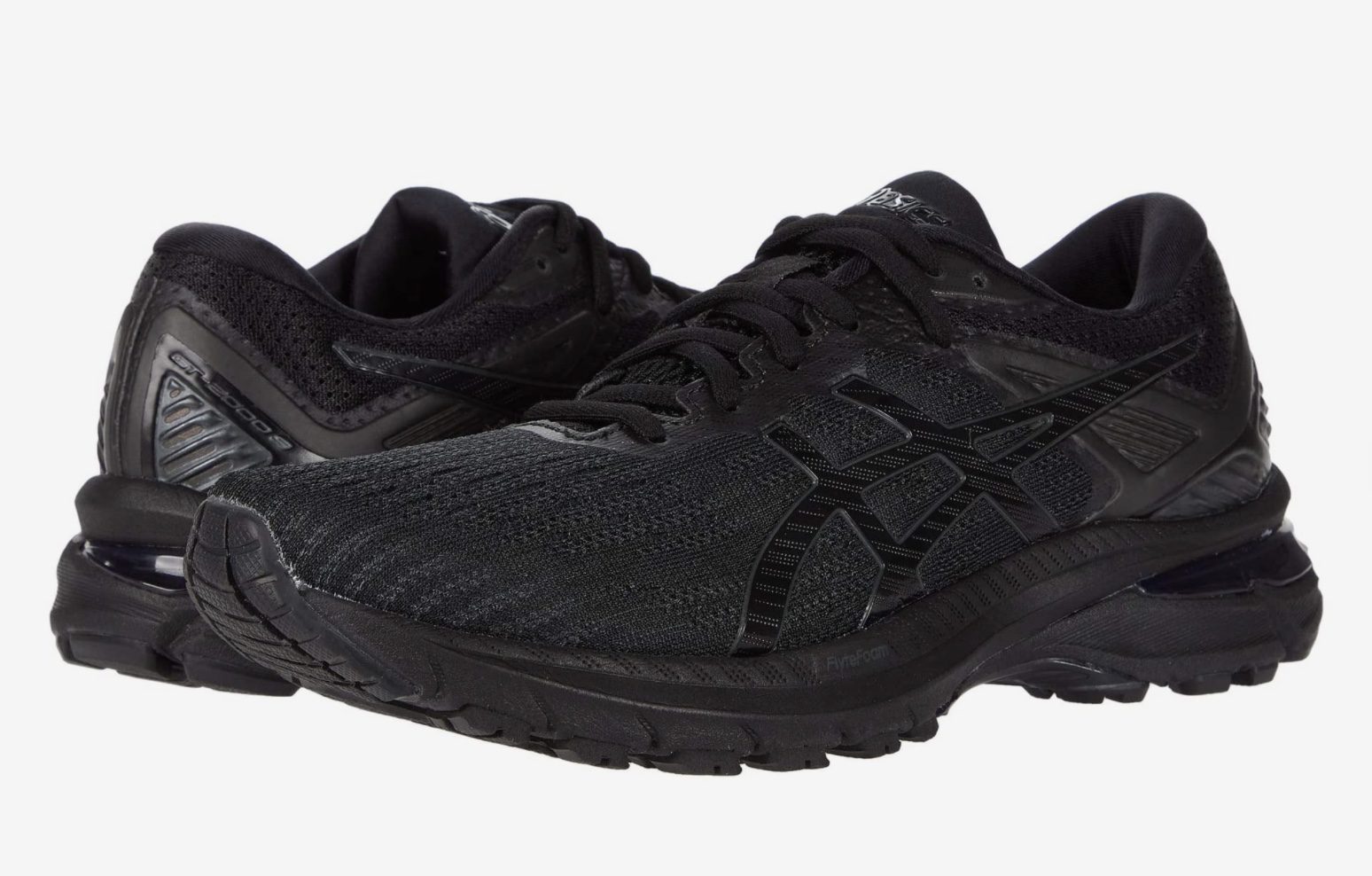 If you choose your colors and styles carefully, any shoe can be professional enough for teachers. "I get a black pair of Asics so I can still wear them with dress pants," explains Nicole B.
We recommend: Asics GT-2000 9
37. Saucony Sneakers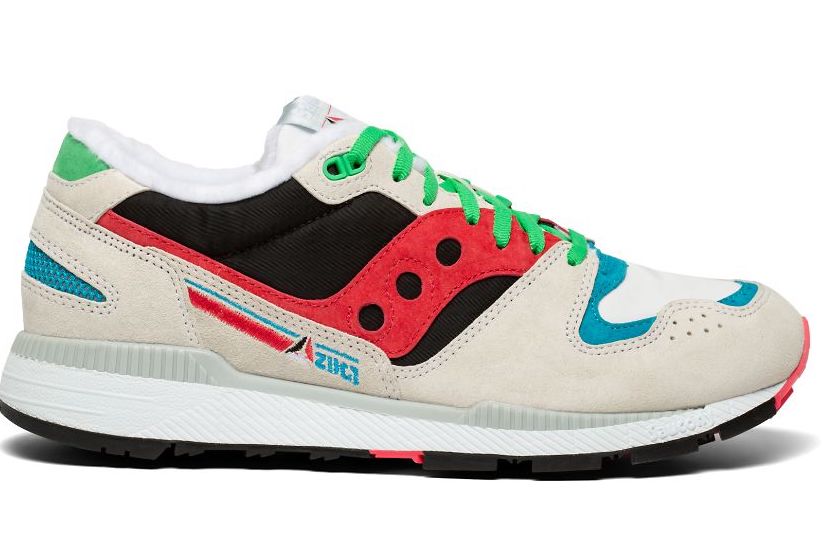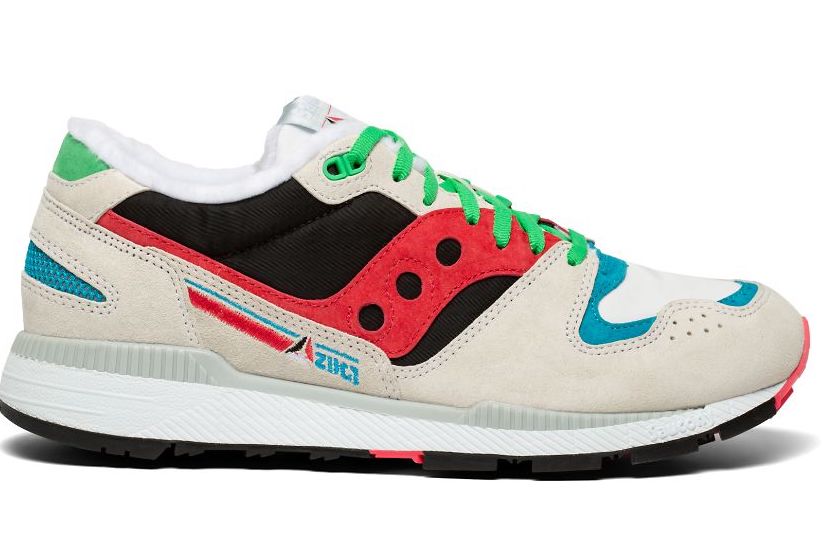 For those who prefer a pop of color, these cozy sneakers are the perfect fit. Although they can be a bit expensive, Laura W. writes that investing in a pair is "worth every moment on my feet!"
We recommend: Azura Ski Jacket Sneakers
38. ECCO Shoes
"Ecco is a good brand. They're expensive, but they never wear out, and [they] look good," Renee B. explains.
We recommend: ECCO Simpil Loafer and ECCO Soft 7 Zip Bootie
39. Taos Sneakers


"Taos sneakers are so comfortable and have a soft support footbed," raves Cheryl T. "They come in lots of different colors."
We recommend: Taos Plim Soul and Taos Star Burst
40. FitFlops


FitFlops gained popularity a few years ago as a comfortable shoe that helps keep you in shape. They've expanded their line to other styles that are great for school. Erin G. writes, "FitFlops are ALL I can wear."
We recommend: FitFlops Superloafer and FitFlops Leather Clogs
41. Oofos Shoes


Shoes for plantar fasciitis and other ailments can be difficult to find, but this brand gets the seal of approval from the American Podiatric Medical Association (APMA). Plus, teachers like Janet H. tell us, "Oofos are amazing! I had plantar fasciitis and Achilles tendonitis, and they help me not feel any foot pain when I walk."
We recommend: OOmg Low eeZee and OOCloog Limited
42. Clarks Sneakers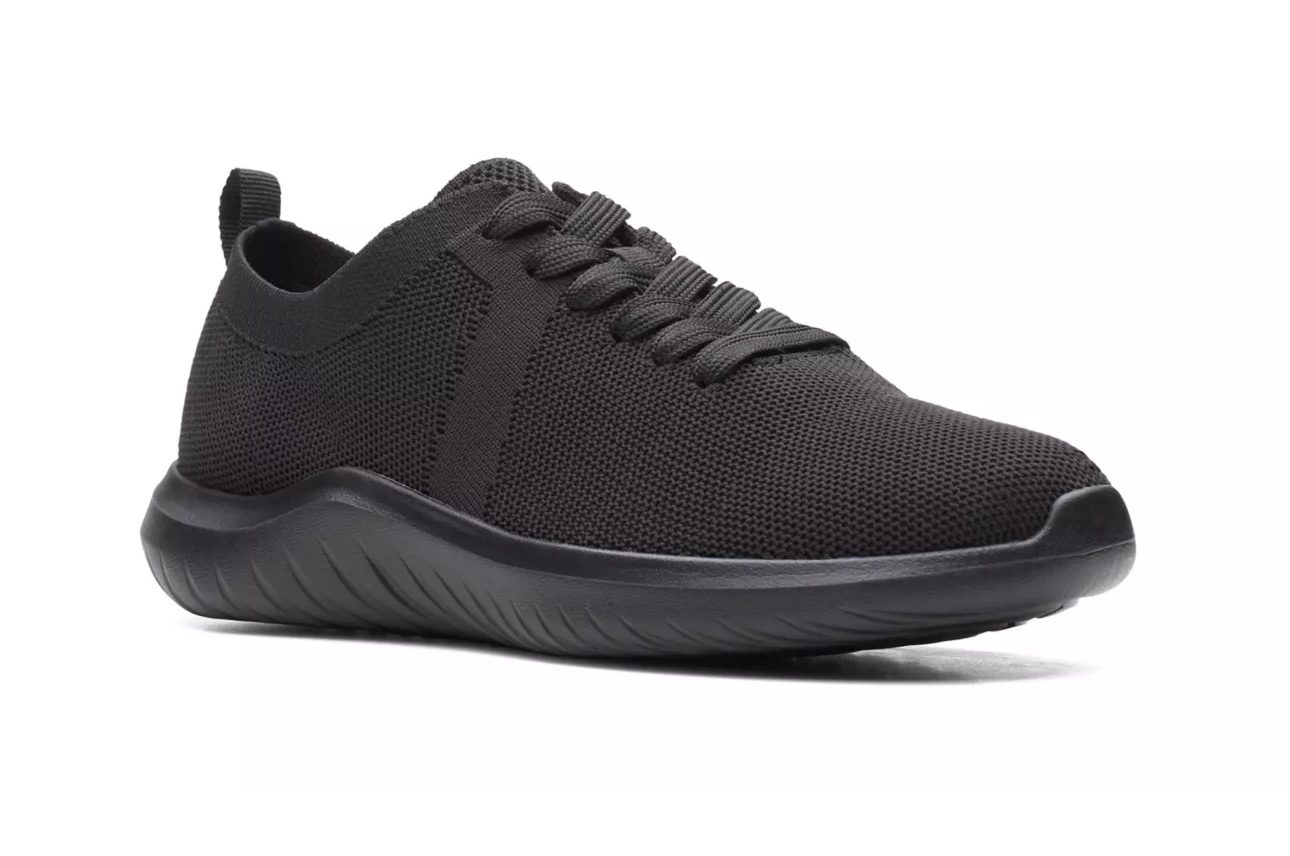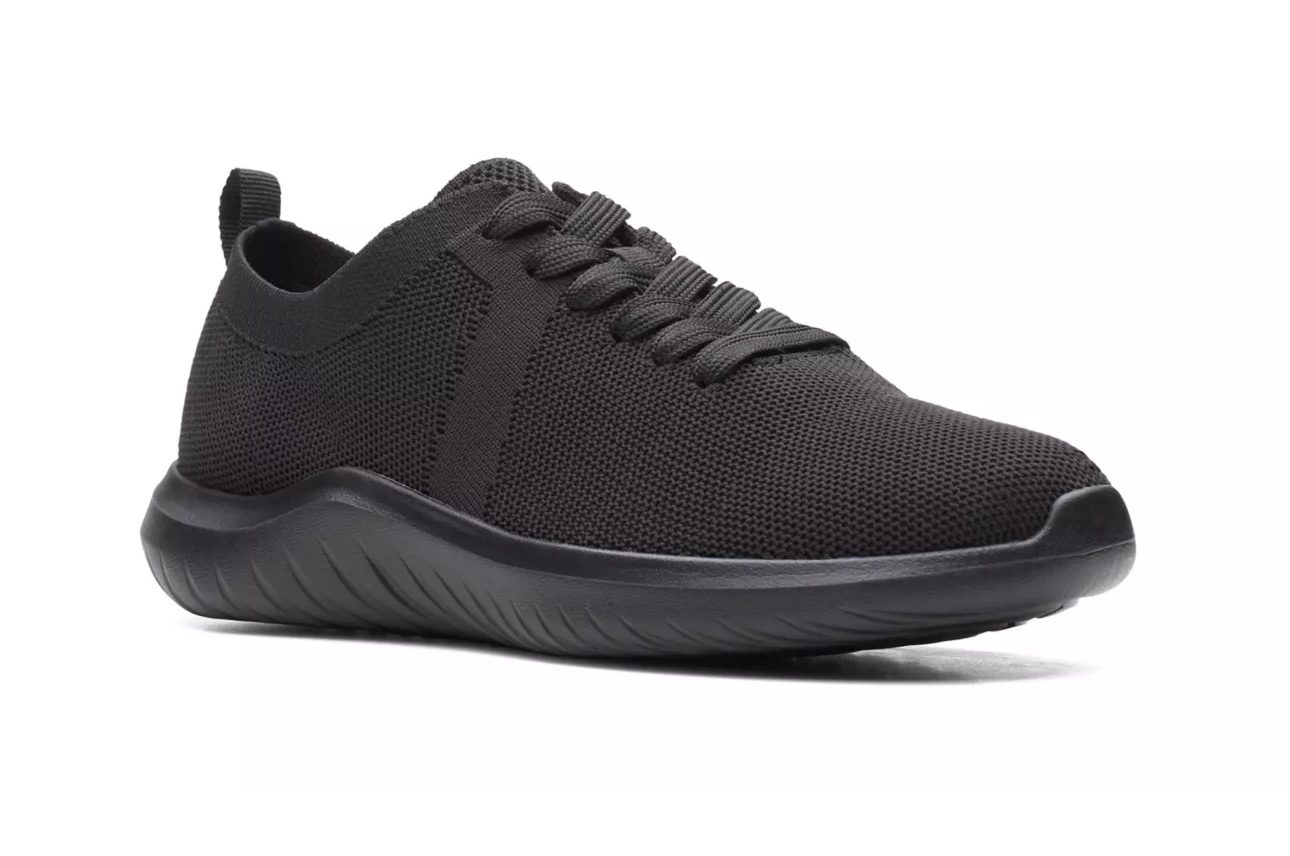 Clarks is another brand that's on this list of the best teacher shoes more than once. "I love the lace-up sneaker from Clarks so much. These keep me going all day," swears Krista H.
We recommend: Clarks Nova Glint
43. On Clouds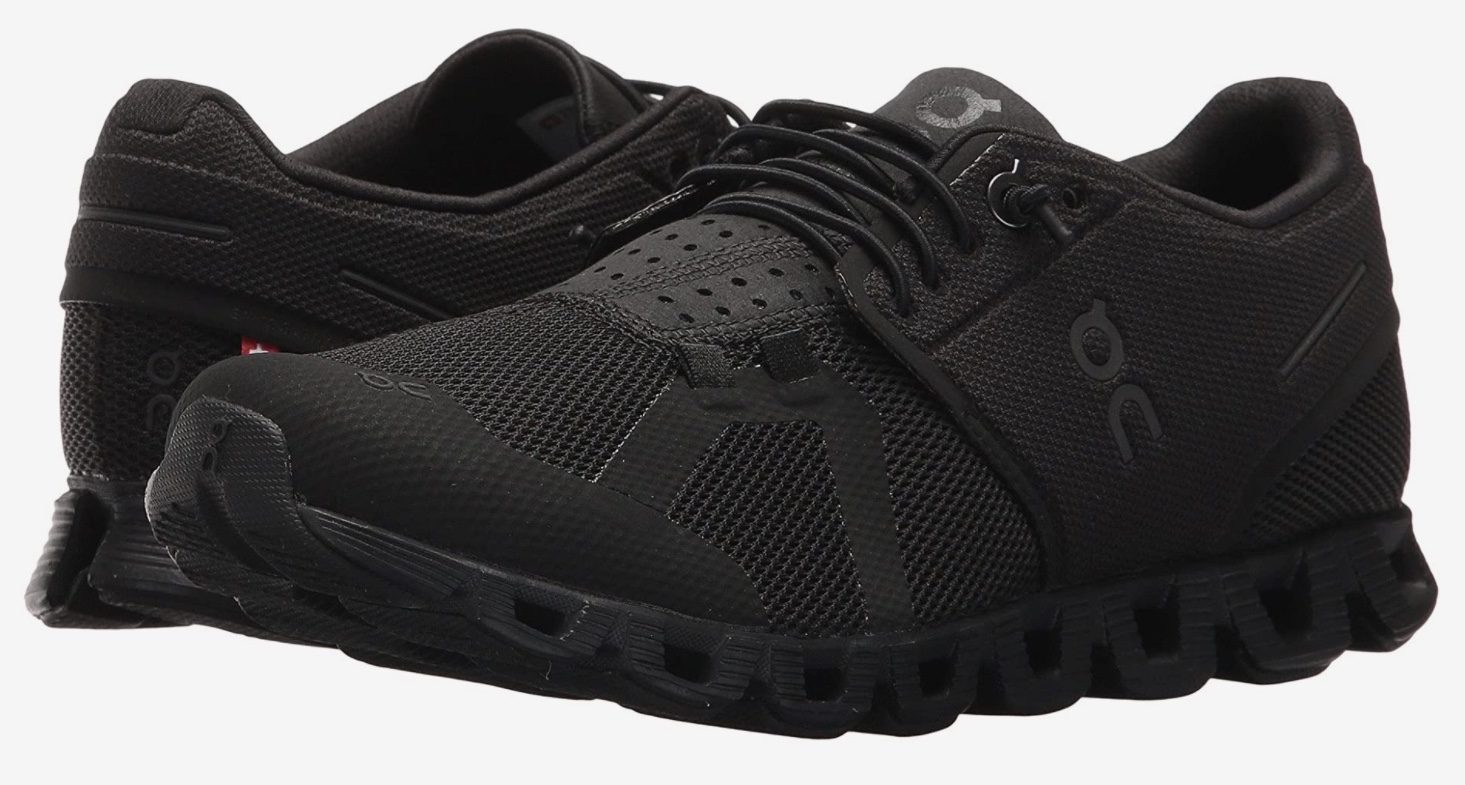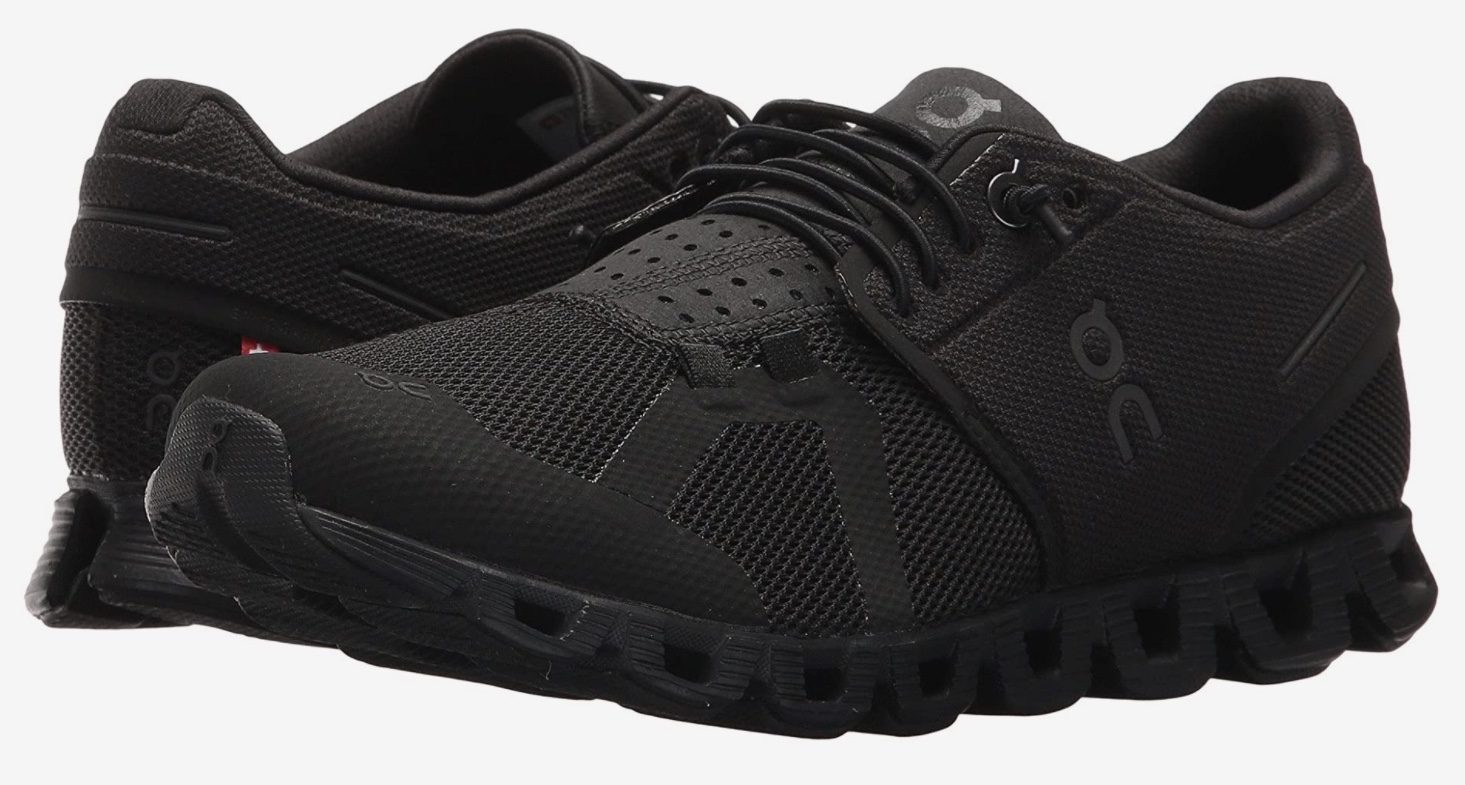 Teachers are big fans of this brand. Stephanie F. raves, "I love, love, love my On Cloud shoes. I have three different pairs." Liz S. chimes in, "I love mine. I have wide feet and high arches. They fit well and are super comfortable."
We recommend: On Cloud 2.0
44. Skechers D'Lites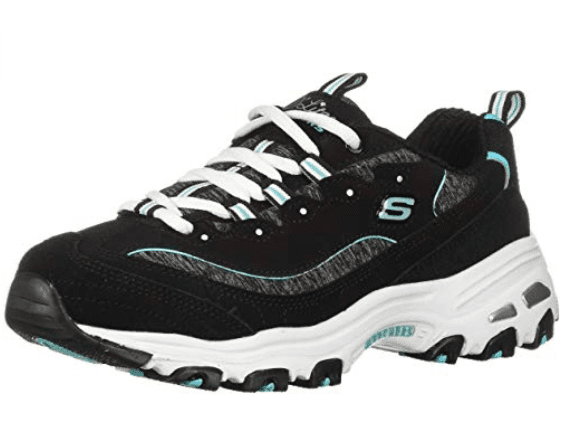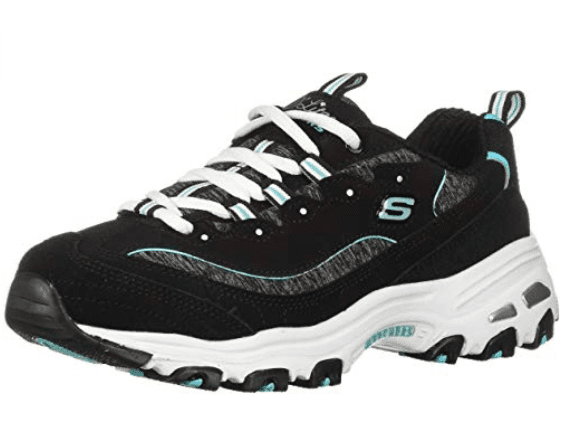 Mary L. loves this Skechers style. "I like any of the Skechers D'Lites with yoga memory foam." The insole makes these teacher shoes comfy for long days.
We recommend:  Skechers D'Lites Me-Time Sneaker
45. Vionic Slip-On


"I have wide feet and plantar fasciitis, and I love Vionic," Melana K. shares. The brand has a big selection of styles for men and women, and you can even buy their insoles separately to add to other shoes.
We recommend: Vionic North Willa Slip-On and Vionic Dahlia Flat
46. Skechers Go Walks


"Sketchers Go Walks are a good option if you are looking for something less expensive," says Brenda W.
We recommend: Skechers Performance Women's Go Walk 4
47. Volatile Sandals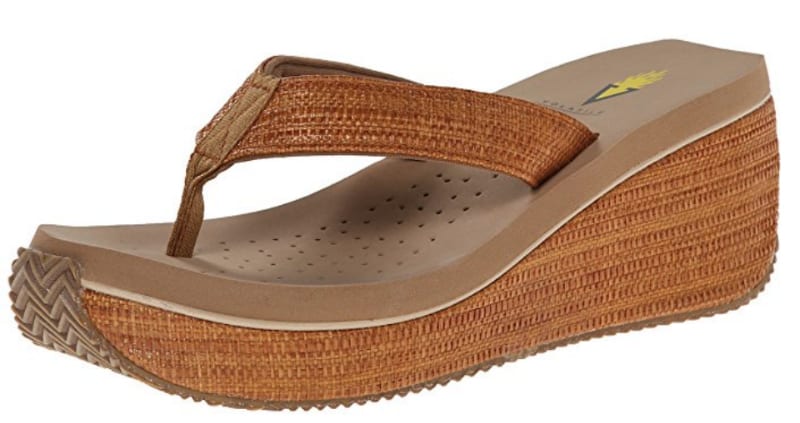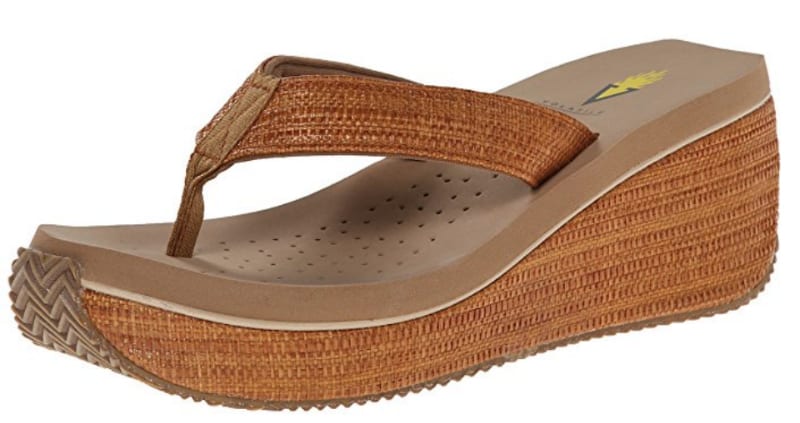 Not quite ready to give up your summer sandals? "In the summer, I live for Volatile shoes," recommends Regina J. "They are cute and comfortable."
We recommend: Volatile Bahama Wedge Sandal
48. Birkenstocks


Here's another sandal option, recommended by Karin B. "If the weather is permitting, I go with Birkenstocks." (Heck, go ahead and pair them with socks if you want to!)
We recommend: Birkenstock Arizona Soft Footbed and Birkenstock Boston Clogs
49. Dr. Scholl's Brilliance Riding Boots
If winter comes early in your neck of the woods, these classic boots will get you ready for colder days to come. Bonus: These fit wider calves, which knee boots don't always do.
We recommend: Dr. Scholl's Brilliance Riding Boots
50. Soda Multi-Strap Ankle Bootie
"So comfortable and looks great!" one Amazon reviewer reports. "I'm a teacher and on my feet all day, but these felt great and no issues!!!"
We recommend: Soda Multi-Strap Ankle Bootie
51. Clarks Ankle Boot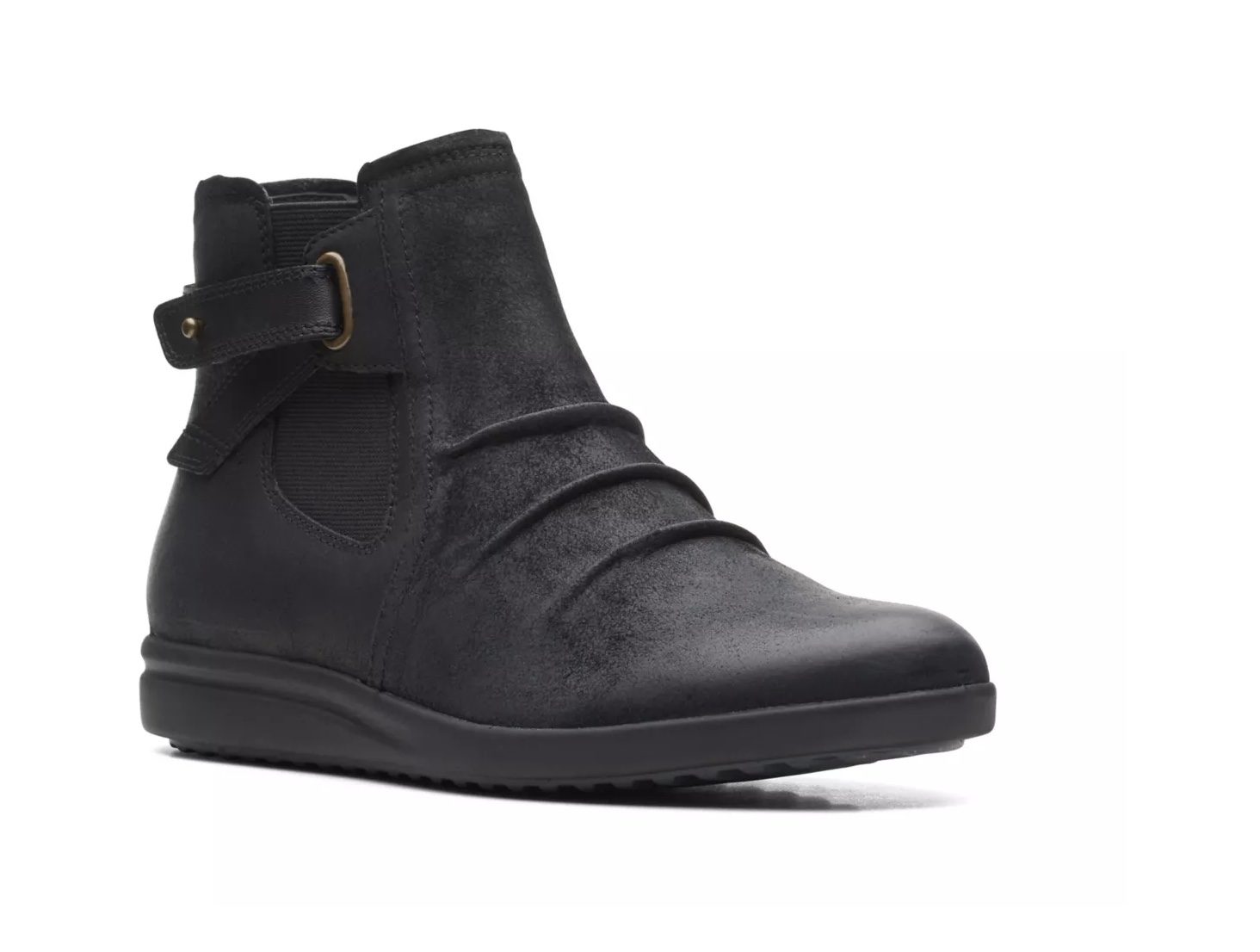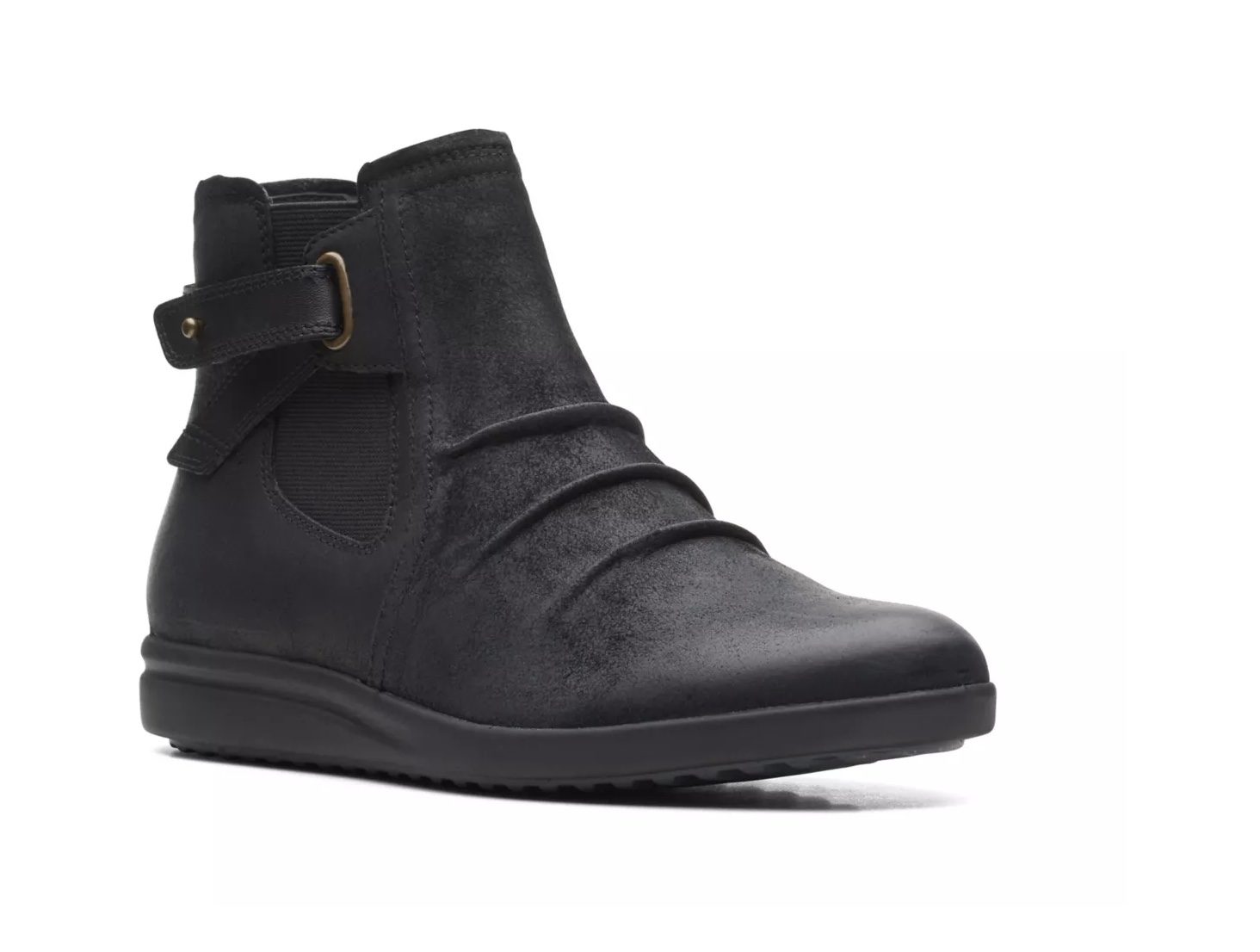 Here's one more Clarks to consider. If you want comfort, this is a brand that teachers tell us again and again you can count on.
We recommend: Clarks Tamzen Boot
52. Amazon Essentials Men's Canvas Slip-On Loafer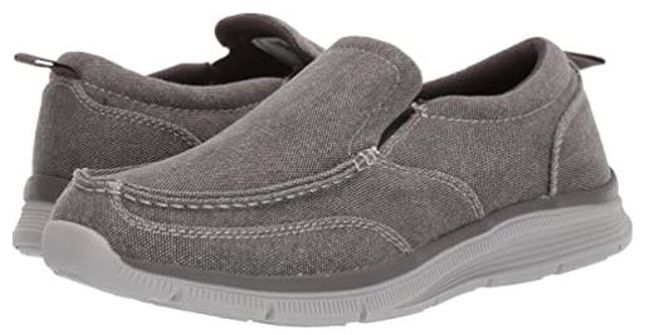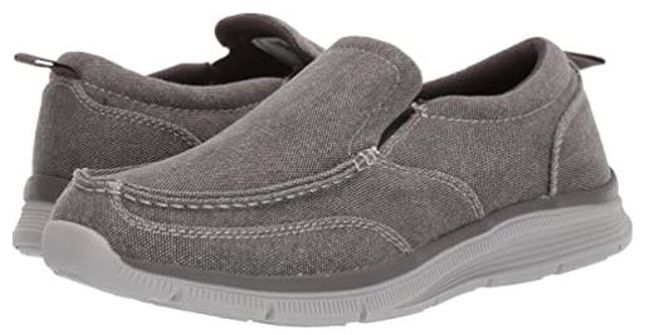 Sometimes it's harder for men to find inexpensive, comfortable teacher shoes. That's why we like these Amazon Basics slip-ons. One reviewer gives them the thumbs-up: "Very comfortable loafers. They're actually more comfortable than my Skechers for half the price."
We recommend: Amazon Essentials Men's Canvas Slip-On Loafer
53. TOMS Shoes


We hear from teachers how much they like TOMS shoes over and over. If you watch Amazon and Zappos, you can pick up some great deals too.
We recommend: TOMS Classic Slip-On and TOMS Carlo
54. TOMS Boots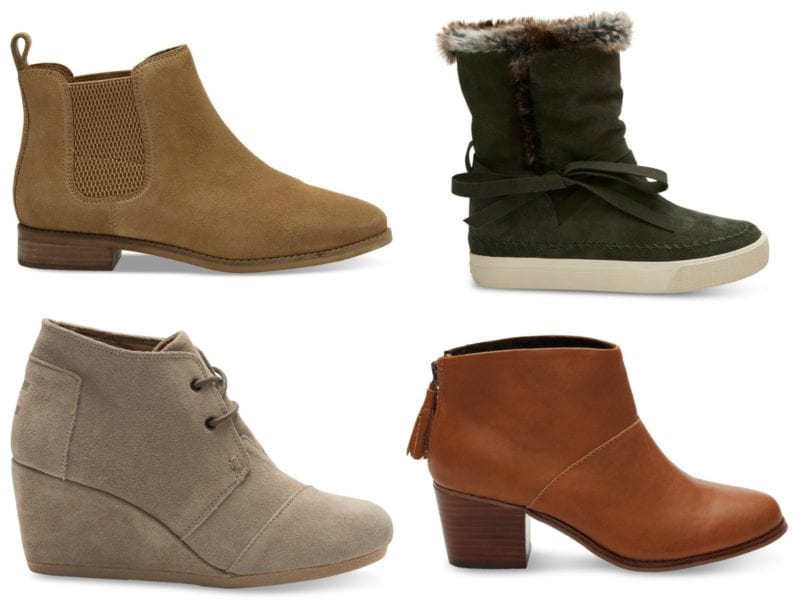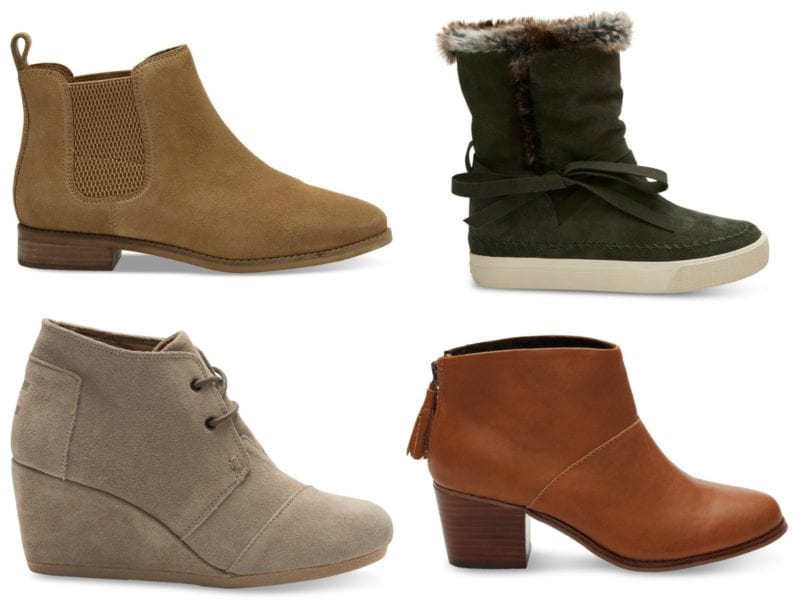 TOMS has more than just its classic slip-on shoes. "I am all about TOMS boots to wear for their comfort, but I also love the buy-one-give-one social-good aspect." —Katie M.
We recommend: TOMS Boots for Women
55. MAIITRIP Shoe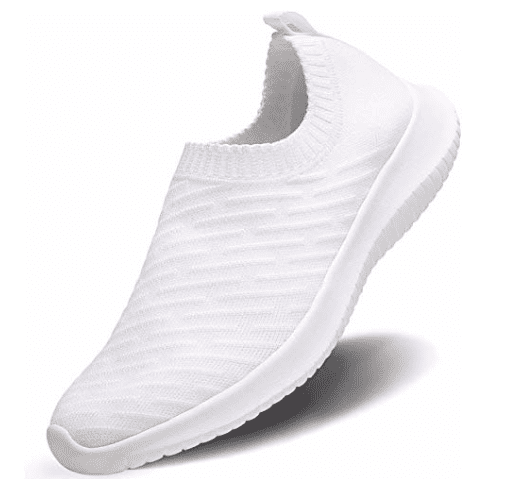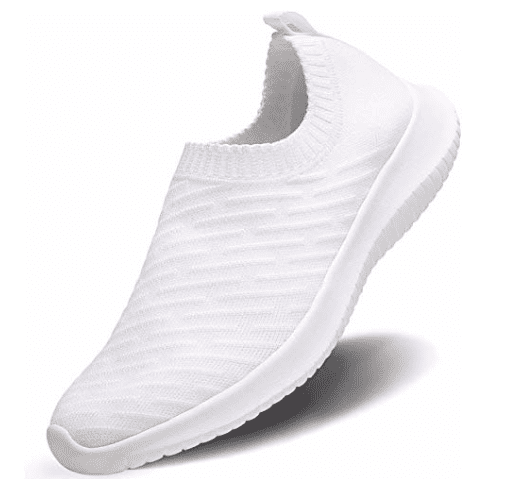 If you want to keep your teacher shoes simple and affordable, you might want to consider MAIITRIP. They come in several different colors and slip on and off in a snap.
We recommend: MAIITRIP Slip-On Walking Shoe
56. Brooks Shoes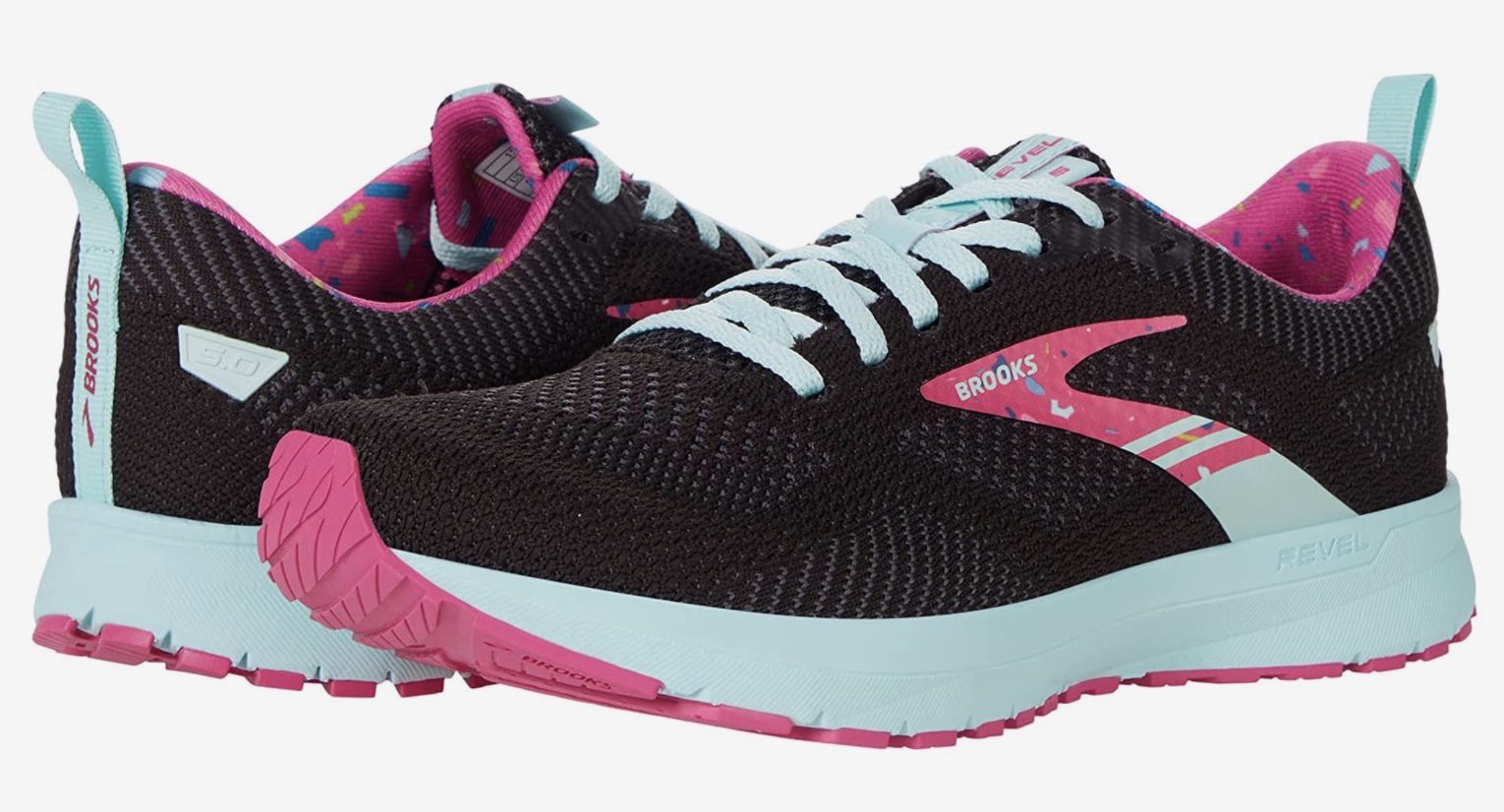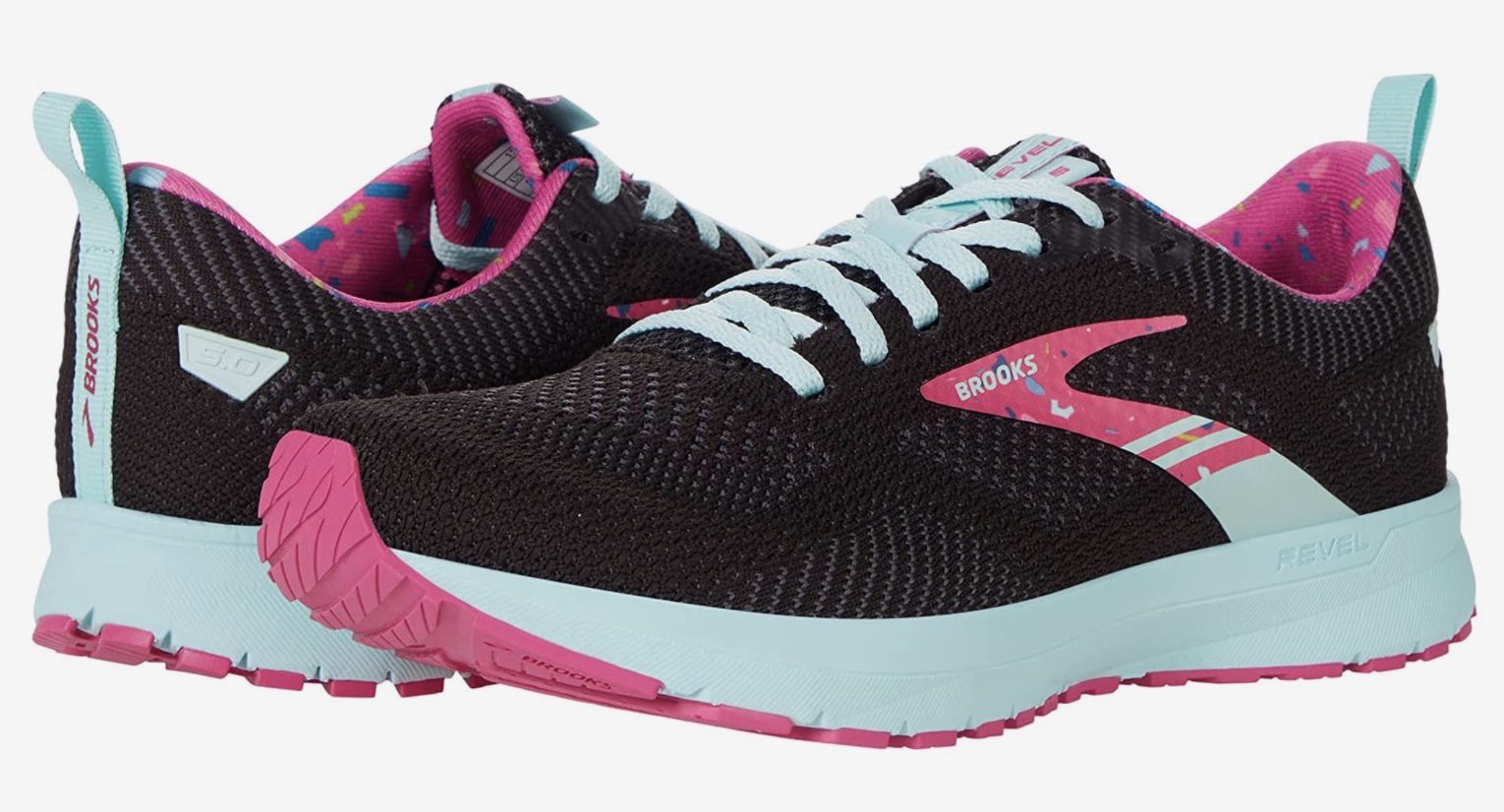 Reviewers swear by these sneakers for making life easier while on their feet all day, even helping ease issues like back pain, knee problems, and plantar fasciitis. Plus, they have a lot of fun and colorful styles to choose from.
We recommend: Brooks Revel 5
57. Naturalizer Riding Boots

"Tall boots over pants is my favorite look for school, and Naturalizer's boots keep my feet happy all day." —Megan V.
We recommend: Naturalizer Riding Boots
58. Jack Rogers


The Jack Rogers comfort line offers support without sacrificing style. Curved edges and a soft bottom support the heel, perfect for all-day wear. Plus, their sneakers are a great, versatile option.
We recommend: Jack Rogers Comfort Sandals and Jack Rogers Croc Sneakers
59. Tieks Ballet Flats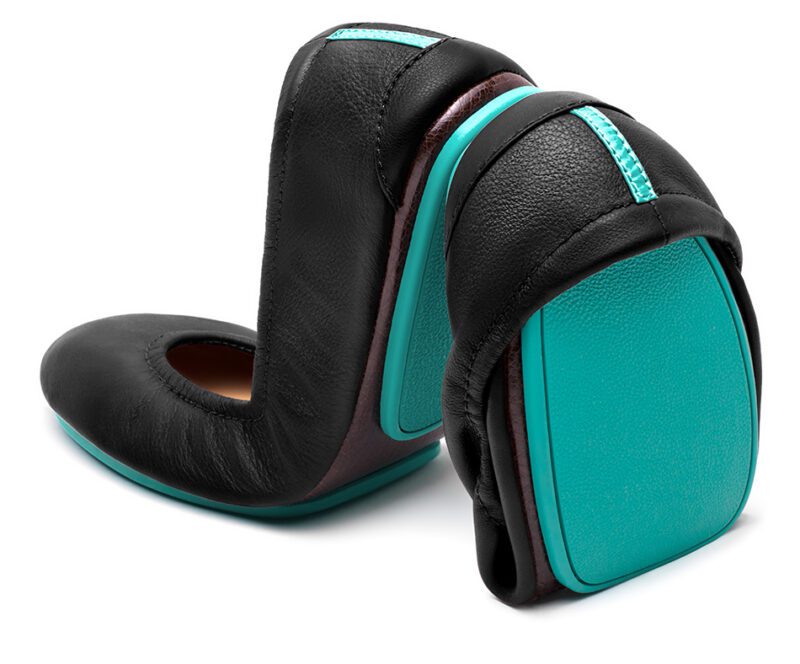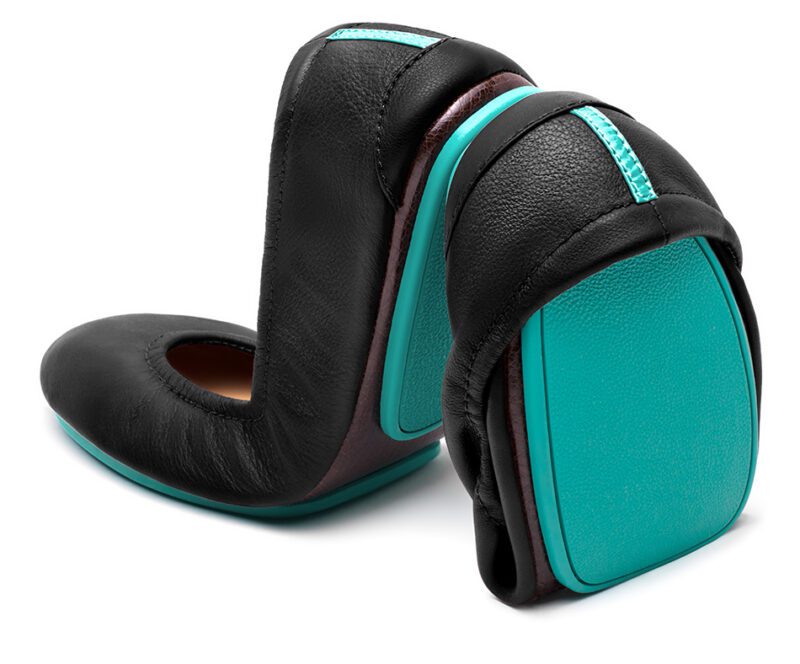 These Tieks shoes bring the classic elegance of Audrey Hepburn with all the comfort of a ballet flat. They feature non-skid rubber soles, soft full-grain leather, cushioned insteps, and a non-elasticized back that will continue to hold up after long days.
We recommend: Tieks Matte Black Ballet Flats
60. Vans Low-Top Sneakers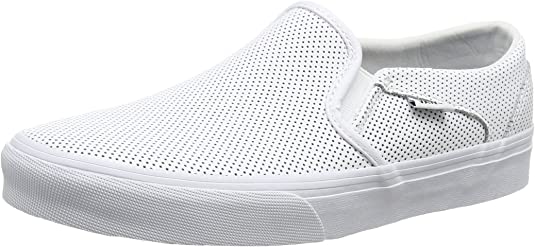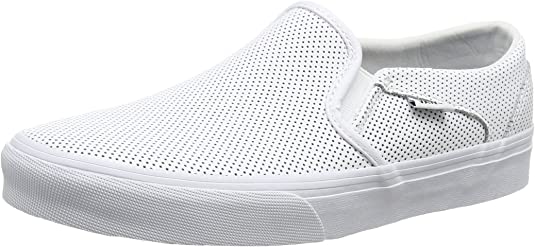 We recommend: Vans Women's Low-Top Sneakers and Vans Men's Low-Top Trainers
61. UIN Canvas Slip-Ons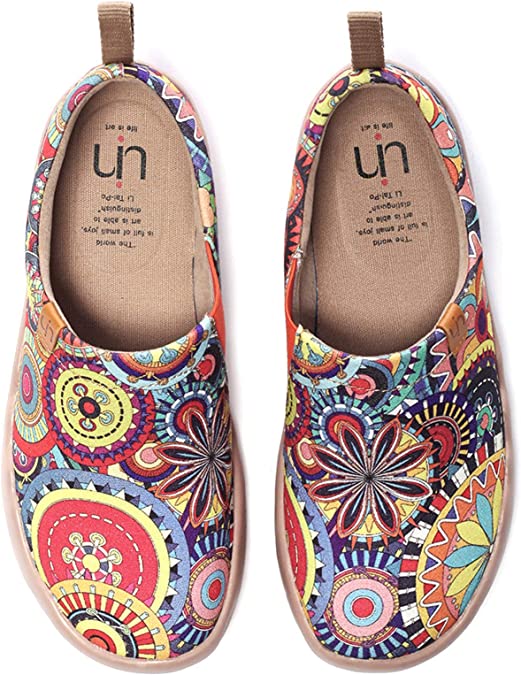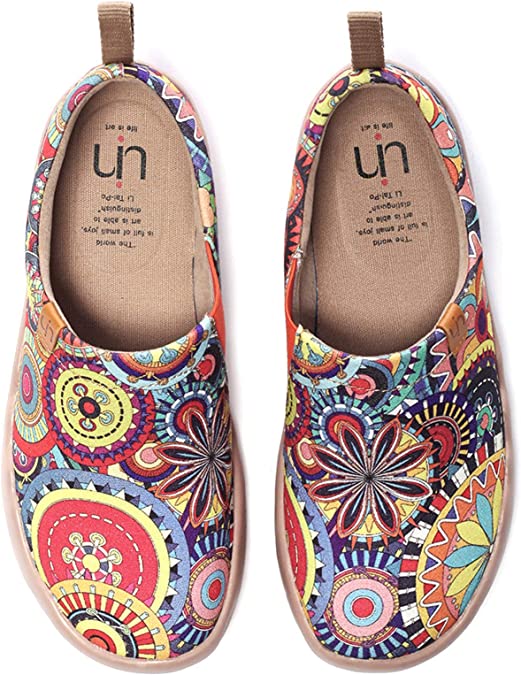 These unique and versatile slip-on teacher shoes are perfect with any outfit. The thick inner cushion provides incredible support while the slip-resistant soles help maintain traction as you run through the halls.
We recommend: UIN Women's Canvas Slip-On Shoes
62. VOCNTVY Loafers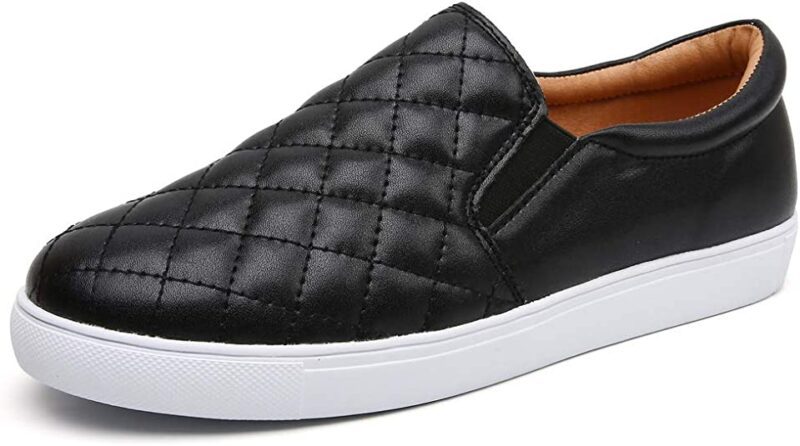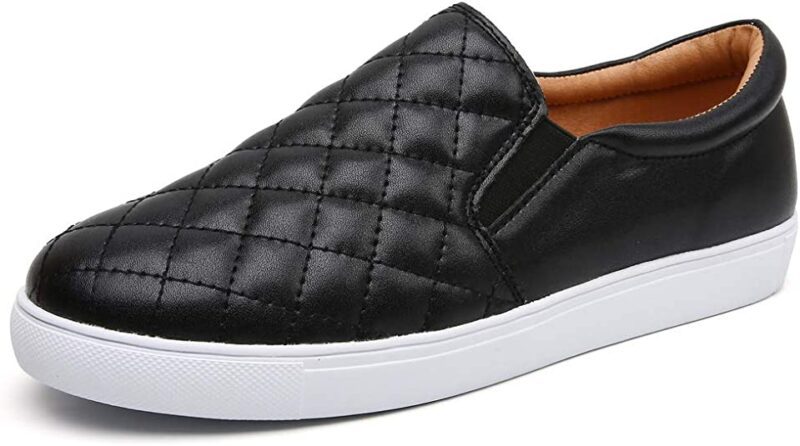 VOCNTVY makes these great slip-ons that are as stylish as they are comfortable. The upper shoe, which features a cool quilted pattern, is made of 100% leather, and the inside has a memory foam insole.
We recommend: VOCNTVY Quilted Leather Slip-On Sneakers
63. OLUKAI Slip-On Sneakers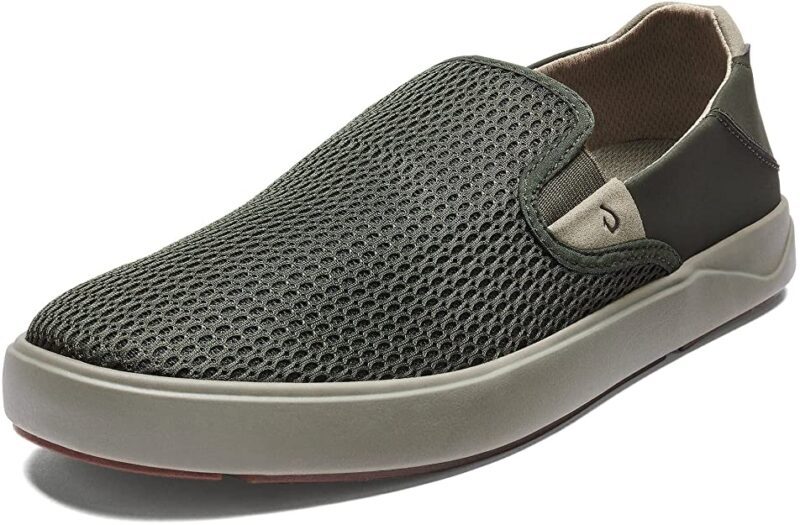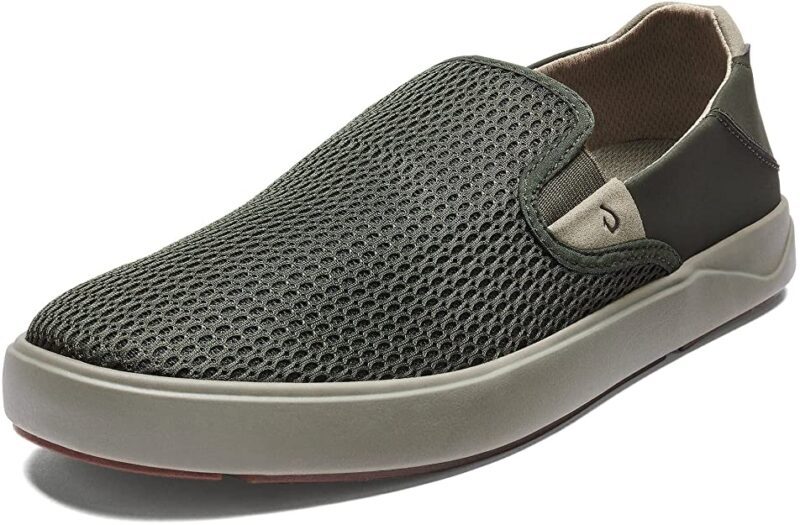 The Lae'ahi men's sneakers are teacher shoes that offer high comfort and versatility. Go from the beach to the classroom with these slip-ons that feature removable/washable insoles and OLUKAI's patented Drop-In Heel, allowing you to easily convert this shoe into a slide!
We recommend: OLUKAI Lae'ahi Men's Slip-On Sneakers
Plus, check out 20 of the best casual dresses (with pockets!) for teachers.