What's On The Learning And Development Horizon?
How do modern organizations approach learning design? What role does L&D play in business strategy? SweetRush's report delves into the latest learner experience trends to shed light on which skills are in demand, how organizations can leverage learner-centered design, and how Learning and Development can help you future-proof your strategy.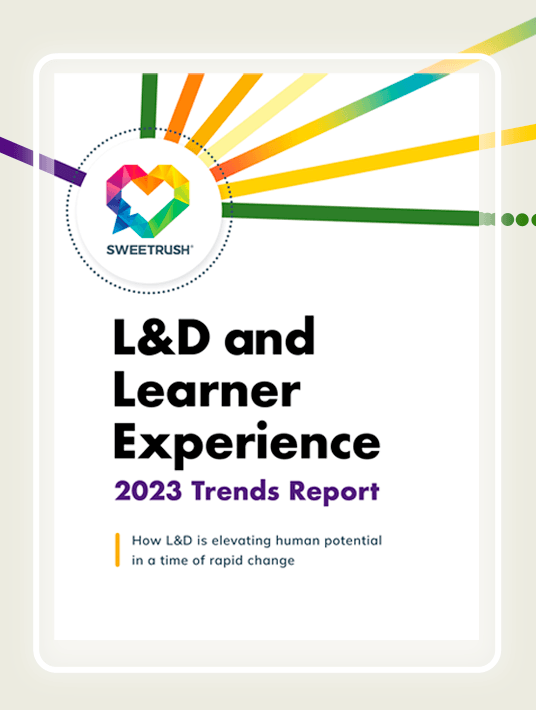 eBook Release
2023 Learning & Development And Learner Experience Trends Report
Gain insight into what's working (and what's not) from other L&D leaders with examples and tips you can use in your organization. Your learners will thank you!
Why Personalized Learning Experience Design Shouldn't Be A Last Resort
Some organizations regard Learning Experience (LX) design as an afterthought rather than as a proactive measure to ensure business success at the individual level. Employees expect growth opportunities that allow them to broaden their skills and take on new responsibilities. As such, launching learning initiatives shouldn't be a form of damage control but a way to empower your people and prioritize their personal development.
However, this inevitably leads to a series of all-important questions: how do you make a strong business case for L&D to get internal buy-in? What's the best way to create learner-centered programs that are relevant and meaningful for your employees? Which core competencies should you focus on to prepare them for emerging challenges? That's where this eBook steps in to highlight the latest trends and help you focus not only on the future but how you can leverage learning solutions to meet the needs of today's workforce.
About This eBook
Which talents are sought after in the workplace? What will tomorrow bring in the world of L&D? Here's a sneak preview of what you'll find in this report by SweetRush:
Skills: Which skills are in the highest demand in the workplace today? Find out and discover how to build them using a learner-centered design approach.
The L&D Organization: Discover the biggest challenges in Learning and Development and how to prepare for tomorrow.
Learning Content Creation: What are today's biggest content creation challenges? Is in-person training making a comeback?
Learning Trends: Artificial Intelligence (AI), Extended Reality (XR), WebVR, and immersive learning—uncover what pros are excited about in 2023 and beyond.
How To Get Your Copy
Download the eBook 2023 Learning & Development And Learner Experience Trends Report today to keep up with the latest in L&D and overcome your greatest eLearning obstacles.