eLearning Companies With The Best Sales Training Programs For 2023
Are you looking for some of the best sales training programs out there to help your team close more deals? If so…well, this top list is for you!
More often than not, you just need to give a small boost to make your sales team perform even better. Of course, there are plenty of training programs you can benefit from. Most of them are designed to enable salespeople to close more deals and improve customer satisfaction.
Many believe that the traits of a good salesperson are fixed. But the point is not just whether you have the knack for sales or not. Although you'll find salespeople naturally skilled to close deals, some sales professionals became successful because they improved and developed their skillset over time. Not to mention that you might be the most charismatic person in the room and still struggle to get some prospects to close a deal.
Thus, sales training programs give you the opportunity to improve the way you nurture leads and communicate with prospects. Ultimately, sales teams that do training and keep improving skills will make more sales.
So, how can you tell if a sales training program is good for your sales team? And is it possible to know whether it will help your company as a whole? You need to do some research and compare vendors.
For this reason, we decided to rank the top content providers that offer some of the best sales training programs in the market. All the training companies we've selected have the expertise to assist you in gathering feedback and identifying your sales team's weakest areas. Then, you can work together and create a sales training program designed specifically to improve your sales process.
Let's see which companies can level up the areas where your sales team is lacking.
Ready To Offer Your Sales Team Effective Sales Training That Boosts Performance?
Go beyond traditional sales training. Compare top eLearning Companies with expertise and a proven track record!
Compare Content Providers
List Rankings: The Best Sales Training Programs By Top CPs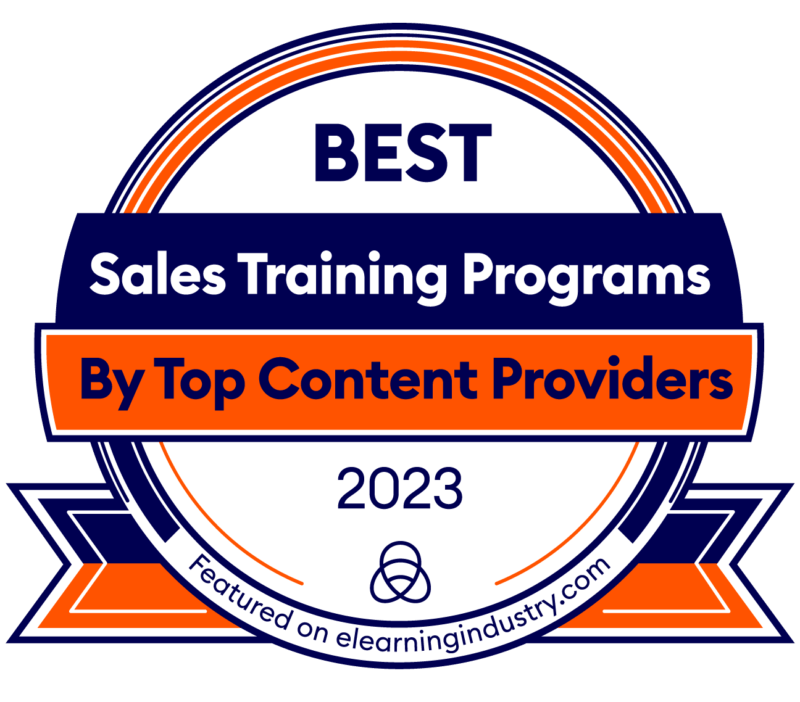 If your company is among the ones offering the best sales training programs on this list, feel free to add this badge to your website.
Enable, Motivate, Improve Your Sales Team Performance | Check SweetRush's Track Record
Bridgestone, Adidas, Google—a short list of clients who've won sales training Gold awards with SweetRush. Clients trust them to partner and create training that motivates busy, sophisticated salespeople to be better at their jobs.
Discover SweetRush's real-world track record improving sales skills—get in touch!
Go ahead and visit our directory to read SweetRush reviews.
Highlights
Immersive Learning
Education-Based Marketing
Sales Enablement
Highlights
Sales is about relationships—learners need a safe place to practice and get real-time feedback. Discover SweetRush's amazing VR, AI, and gaming simulations for real-world sales experiences.
Education-Based Marketing
Are your salespeople not your employees? SweetRush creates exciting and engaging learning programs for the extended enterprise that build loyalty to your brand and increase sales.
From microlearning in the flow of work to AR-enabled sales sheets to sophisticated apps, they help salespeople educate customers and close sales faster with robust learning tech.
Achievements
SweetRush has a proven track record of helping sales teams in business and financial services, technology, and retail distinctly improve their performance. Their team has won over 20 Brandon Hall Gold awards in sales training categories. They'd love to engage in your challenge!
Create A Culture Of Performance With Sales Training
Extensive Instructional Design experience, agency-level creative teams, and innovative learning technologies enable us to build custom sales training solutions that build employee capabilities and drive business results.
Learn more about their innovative learning experiences, engage your learners, and hit your business goals.
For AllenComm reviews, feel free to visit our directory.
Highlights
Highlights
AllenComm has built hundreds of solutions. They've collaborated with a variety of companies and solved challenges from ongoing sales enablement to new product training. Solutions include gamified portals, specialized microlearning, and mobile modules. Also, classroom and event-based simulations for sales management-led training, as well as innovative use of 360 videos and VR/AR applications.
They are experts in thinking outside of the box, always going beyond traditional learning. With their unique collaborative design process, they can transform the way you offer training. And if securing lifelong customers is your goal, AllenComm's solutions will deliver.
Their strategies positively impact your sales performance. AllenComm has created training solutions that have helped organizations achieve impressive results. Be it increasing content consumption and Net Promoter Scores or minimizing new hire onboarding times, they've got what it takes.
Achievements
With 40,000 independent sales consultants, Beautycounter partnered with Allencomm to develop a transformative solution that provided a better understanding of products, the company mission, and procedures, creating a clear, user-friendly onboarding path to success.
Custom, Action-Oriented Sales Training Aligned To Meet Your Business Goals
EI fast-tracks sales training through targeted, personalized, and mobile-first learning programs. They leverage core and extended learning journeys to bridge the gap between the learning and performance of sales teams.
Contact EI to develop custom sales training programs that are targeted, action-oriented, and aligned to help you meet your business goals.
To learn more about what working with them feels like, visit our directory and go through the submitted EI reviews.
Highlights
Core And Extended Learning Journeys
Training That Drives Performance
Mobile-First Design Approach
Highlights
Core And Extended Learning Journeys
They bridge the gap between learning and performance through personalized learning journeys that drive constant reinforcement, spaced repetition, and practice.
Training That Drives Performance
By providing safe practice and rater zones, they improve the readiness of your sales teams and continuously upskill them to meet your business objectives.
Mobile-First Design Approach
They support sales teams on the move and drive performance by delivering mLearning programs that are available on demand, easily accessible, engaging, and immersive.
Achievements
EI has developed custom training programs for clients across 26 industry verticals. They have been featured in over 40 global ranking lists under 18 different categories. They are also proud recipients of over 400 Brandon Hall Group Excellence Awards.
Experienced eLearning Partner For Reaching Your Sales Goals
eWyse's real-life experience and acquired knowledge make them one of the top advisers and eLearning content developers on sales topics. Their eLearning solutions cut the time of the training, as well as help you reach your sales KPIs.
Visit eWyse to find out everything about eLearning in one place, and contact them with your inquiries. They can help you increase your sales and ROI.
To get a better idea about how it is to work with them, make sure to read eWyse reviews in our directory. 
Highlights
Efficiency
Engagement
Practical Examples
Highlights
Their eLearning solutions achieve time- and cost-saving results without compromising on the quality of the training and are, therefore, perfect for increasing your ROI.
With eWyse's interactive eLearning elements and solutions, users can forget about boredom, which is sometimes connected to participating in programs and training.
Practical, real-life examples included in the eLearning courses help train the users and give them the opportunity to achieve growth and gain experience without real-life risks.
Achievements
eWyse's expertise, among other topics, includes digital onboarding development and specific skills training in an eLearning environment. Their solutions guarantee quick and efficient skill building for many clients in different industries.
Drive Business Excellence With Engaging And Memorable Sales Training Solutions
Tesseract Learning is a multi-award-winning digital learning company that delivers unique training solutions that are immersive and experiential. You can leverage their expertise to drive productivity, growth, and the creation of a strong talent pool.
Learn more about how Tesseract Learning can help you.
For Tesseract Learning reviews, please visit our directory.
Highlights 
Value For Training Investment
Engaging, Exciting, Memorable
Customer Delight
Highlights
Value For Training Investment
Tesseract Learning builds sensible training solutions. Their main goal is to educate each audience on the right skills, hence helping learners with professional growth. Ultimately, their training programs drive retention.
Engaging, Exciting, Memorable
This team knows how important it is to deliver training by having the memorability factor in mind. They build courses that focus on experiences, activities, and assignments.
Tesseract Learning achieves this by continuously delivering learning solutions that exceed client expectations. Most importantly, their deliverables are of high quality and on time. No matter your budget, they can find a solution that fits.
Achievements
Tesseract Learning has won numerous awards and accolades over the years. They have also been featured in 30+ global ranking lists in 15+ different categories.
Develop Custom eLearning Programs For Sales Training To Improve Sales Results
Successful sales training programs produce significant business benefits. Harbinger's sales training repertoire includes customer service, client presentation, sales techniques, negotiation skills development, and tools training. They can help you design and develop eLearning solutions to close skill gaps, increase engagement, and improve the performance of sales teams to drive business success.
Contact Harbinger group for more info.
Explore Harbinger group reviews.
Highlights
Custom Learning
Content Transformation
LMS/LXP
Highlights
Nudge-learning, authoring tool-based development, interactive video, 3D model/AR/VR/metaverse development, game-based learning, product simulation, assessment, chatbot, content curation.
Microlearning, ILT to VILT, webinar to eLearning, Flash to HTML5, content migration to LMS/LCMS, Learning and Instructional Design, accessibility, mobile apps.
Learning path creation, journey design and analytics, meta-tagging, LMS migration and integration, certification and recommendation engine design, synchronous learning integration, custom Moodle.
Achievements
eLearning Industry (18), Brandon Hall Group (16), CLO Award (1)
HR, eLearning, digital publishing, education, hi-tech
Transformed Classroom Training into Virtual Training for High-Touch Sales Business
Provide Sales Training That's Designed To Drive Business Results
Compare top sales training providers with deep expertise and a proven track record!
Compare Content Providers
eLearning Industry's Company Selection Criteria
Globally recognized LMS experts, including C. Pappas and our Editorial team, thoroughly reviewed each vendor's eligibility. More specifically, we've checked each eLearning company's website. And we made sure they had relevant published content, including articles, eBooks, and webinars, to reach a final conclusion.
Our committee ranked the best companies for sales training programs by focusing on the following eight criteria:
Company's economic growth potential
Company's social responsibility
Customer retention
Customer reviews
Employee turnover
Learning industry innovation
Quality of content development
Expertise in learning solutions
This top list gives you a thorough review of the best content providers for sales training courses. All vendors have the experience and tools to help you improve your bottom-line results. We guarantee that you'll find many training partners on this list that fit your needs.
Before choosing which eLearning company would be the best partner to help you with your sales training initiatives, please take a look at the benefits and types of sales training programs you can leverage below. Undoubtedly, these extra tips and insights will help you choose the best vendor for your requirements. If you want to help your salespeople improve their selling techniques, skills, and processes, such training is necessary.
What Is A Sales Training Program?
A sales training program is a course that is specifically designed to help sales employees build and improve necessary skills to be more effective and close deals. These types of courses can be anything from product knowledge resources, training videos on sales techniques, presentations, exercises through role-playing, and more.
Don't you want to provide your salespeople with the necessary techniques, skills, and info they need to generate revenue for your business? Of course you do. Revenue is the lifeblood of business. And sales are what brings fresh money into your pocket. But what if your salespeople aren't effective? Or if they end up in conflicts with existing clients?
It saddens me to say this, but learning from mistakes is expensive. So, if you want to outsell your competitors, a well-trained sales team is what will take you one step closer to accomplishing your goals. That's why sales training programs are important. By implementing one of the best sales training programs, you can build relationships for future business and also retain customers.
Benefits And Types Of Sales Training Programs
When done right, a sales training program can change the behavior of a seller and improve business results. For example, effective sales training can help your salespeople improve win rates and meet their sales goals. At the same time, it increases the chances of achieving premium pricing.
However, to get the benefits, organizations must approach sales training programs with their business goals in mind. Hence, you need to work with your sales training provider and even with your internal training and enablement teams to determine how to achieve those goals.
Here are some competencies that learners can develop by implementing one of the top sales training programs:
Consultative selling and sales prospecting
Qualifying the sale and filling the pipeline with qualified buyers
Sales negotiation tactics and overcoming objections
Winning more sales opportunities
Growing strategic key accounts
Succeeding with virtual selling
Improving sales productivity and accountability
Sales management and sales coaching
Maximizing motivation and productivity
Of course, organizations can achieve some common benefits, but the actual outcomes should be specific to each organization. And now you might be asking, who is sales training for? Well, sales training programs are not just for sellers. Skills must be developed for all sales managers and sales professionals in your organization. For example, sales professionals with titles like field sales, sales rep, business development rep (BDR), account manager, account or sales executive, customer service rep (CSR), inside sales, seller-doer, professional or business service provider, and more.
How To Chose The Best Sales Training Programs
Your sellers are the frontline of your organization. This means that they are key players in your growth goals. By equipping them with the tools, coaching, and resources they need, you empower them to excel in their roles. So, please ensure that the sales training programs you choose to offer support competency development and behavior change.
And remember—it's vital to align sales training programs to your key business metrics. That way, you can make sure you hit your goals. The end game is to see measurable improvement after the training.
So, how do you choose the best sales training programs for your teams?
Here are some steps you must follow:
Determine who should be involved in your sales enablement initiative
Get team feedback to identify pain points and weaknesses
Compare top-rated sales training companies
Explore the depth and breadth of training courses offered
Ask for innovative offerings or delivery methods
Focus on vendors with thought leadership and influence on the sales training sector
Also, it's important to make sure that there's a variety of delivery methods:
Instructor-Led Training (on-site and virtual)
eLearning (online, asynchronous)
Mobile and email
Video and microlearning
Simulation
Gamification
Coaching
At the end of the day, a great sales training program drives lasting behavior change and results. Make sure to run an initiative that delivers what's expected. Return On Investment (ROI) should be your top priority when choosing a training company.
Key Takeaways
By this point, you must have realized the heavy lift you have to face when selecting sales training experts for your organization. That's why evaluating and researching top-rated companies is key to creating a short list of sales training providers.
It's a hard journey that sales leaders, Learning and Development, and sales enablement professionals have to embark on in order to deliver effective sales training that gets results. I surely hope that these tips help you make a better decision when you hire a sales training provider.
To narrow down your list of contenders, make sure to check the following:
Experience
Customization capabilities
Assessments
Coaching and reinforcement
Every single eLearning company featured in this top list would be delighted to work with you. Together, you can develop an action plan for achieving your sales enablement goals. Be it short- or long-term, feel free to contact them. They're ready to answer any questions you may have.
Yet, even when you know all about the best sales training courses available, it's also important to conduct your own research. You are the one who knows which partner is the best fit for your business. So, make sure that the provider you choose offers breadth and quality of sales training topics as well as competencies.