The Shift In L&D To Train A Dispersed Workforce
In today's workplace, everyone is aware of the importance of training. In the post-pandemic era, learning is primarily conducted online, with countless courses available to hone skills. Due to the globally dispersed nature of the workforce, the shift from offline to online training has encountered many problems. L&D teams with globally dispersed workforces have location-specific training needs that can be difficult to implement, but with rapid eLearning, they can implement these needs and train a globally dispersed workforce efficiently.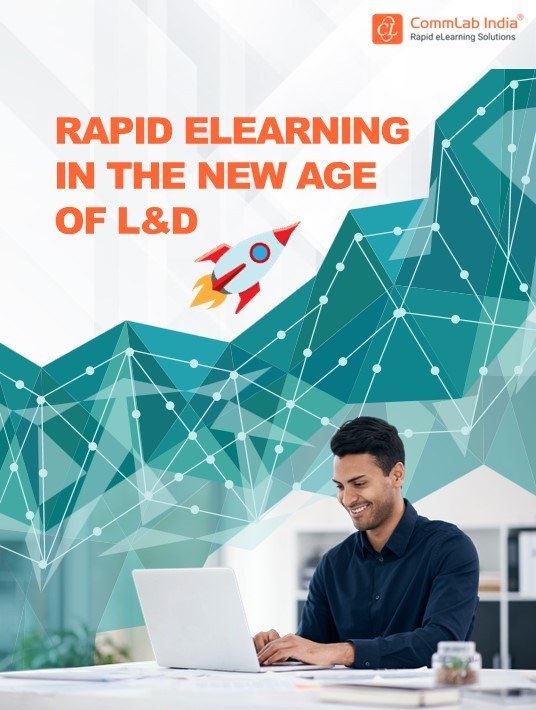 eBook Release
Rapid eLearning In The New Age Of L&D
Have you ever wondered how the use of rapid eLearning significantly impacts business results? Get answers to all your questions!
Meeting New Demands
It is becoming increasingly important for organizations to invest in their employees' professional and personal development. Learning and Development departments need to provide training that goes beyond just technical skills. It is crucial that L&D units create programs that support the growth of essential skills needed for success in a workplace that is changing quickly while also being in line with the company's sustainability and diversity, equity, and inclusion (DEI) goals.
To meet these new demands, rapid eLearning enables organizations to rapidly develop and deliver training related to sustainability and DEI in a cost-effective and accessible way. Rapid eLearning is an ideal solution for organizations looking to address these important initiatives through training because it allows for the creation of interactive and engaging content.
In recent years, the L&D industry has undergone a significant transformation due to the advancement of technology and the increasing demand for quick, effective, and efficient training. This shift has resulted in rapid eLearning as a method for designing, developing, and delivering online learning content quickly and affordably. Rapid authoring tools and cloud-based platforms are used in rapid eLearning development to create engaging, interactive, and accessible learning environments. The popularity of this strategy has grown as businesses look for ways to provide their employees with the training, they need to remain competitive in a rapidly changing market.
Rapid eLearning: The Genesis
Rapid eLearning refers to the method of developing eLearning courses quickly, often in a matter of days or weeks, by using pre-built components and accelerators. This approach prioritizes speed and is typically used for immediate training needs with a defined goal. In rapid eLearning development, the focus is on creating training content that can be delivered and consumed quickly, while still providing the necessary skills and information needed to meet the training objectives.
In the subsequent chapters, you'll learn about what rapid eLearning is and how it benefits the L&D teams.
Services L&D Teams Avail: The 4 Rs Of Rapid eLearning
Defining a rapid eLearning strategy will help you align your key learning initiatives with your business goals, and the best part is that rapid eLearning can take care of all L&D requirements with the 4 Rs:
Record: Save your subject matter experts' time and reuse existing training material in the form of webinar recordings by converting them to microlearning videos. Explore how the Record strategy reduces your SME touchpoints.
Republish: With this rapid eLearning strategy, convert your legacy (Flash-based courses and courses developed in older versions of authoring tools) to HTML5. Explore the other hidden opportunities you can avail when converting legacy courses to HTML5.
Rebuild: Reconfigure your classroom training material or lengthy eLearning courses into microlearning assets – videos, PDFs, infographics, and more.
Redesign: With this rapid eLearning strategy, convert your classroom training material into digital learning assets – such as eLearning curricula, virtual instructor-led training (VILT), performance support tools, and more.
Benefits Of Rapid eLearning
In contrast to traditional training that requires long seat times and even longer development schedules, rapid eLearning can be quickly created and consumed. How does it affect your L&D workflow, and what role does it play in employee development? Creating content from scratch and ongoing maintenance are eased with rapid eLearning. Likewise, rapid eLearning design starts with targeted goals and key takeaways, which helps the employees apply the information immediately. A rapid eLearning strategy can benefit your L&D department in several ways:
Cost-Effectiveness
Rapid eLearning can reduce the time and costs associated with traditional training methods, such as classroom-based instruction or instructor-led online courses, making it a more cost-effective solution for organizations.
Flexibility
With the ability to quickly create, update online content, and roll out courses, rapid eLearning enables L&D departments to respond quickly to changing business needs and adapt training programs to meet the changing needs of the organization.
Ease Of Access
Rapid eLearning provides flexible and accessible digital learning solutions that can reach a large audience, including employees in remote locations or with different schedules, which helps L&D teams train their employees effectively and efficiently.
Engagement
With the use of interactive elements, such as gamification, simulations, and animations, rapid eLearning can engage learners in a more meaningful way and increase retention of the material.
Conclusion
Measurable results: With variety in the design and development of assessments, rapid eLearning makes it easy to track and measure the effectiveness of training programs, helping L&D departments to continually improve and refine their strategies. Overall, a rapid eLearning strategy can help L&D departments to deliver cost-effective, flexible, and engaging training programs that support the business goals and help upskill employees.
Download the eBook Rapid eLearning In The New Age Of L&D today to uncover the secrets for launching a successful rapid eLearning program that doesn't compromise on quality.
CommLab India Rapid eLearning Solutions
Working with multiple outsourcing vendors can be stressful, and a waste of time & money. With CommLab India Rapid eLearning Solutions, all your online training needs are taken care of, rapidly and economically.