The Best Skills Development And Assessment LMS Tools For 2023
Do you know what the best skills development and assessment tools have in common? They save you time and effort when you need to manage and assess skills your learners gain during training. Plus, you can use them to evaluate and test skills when hiring an employee. Or, you can even leverage such training and assessment tools to develop competencies to decide which employees need assistance in improving their skills. Best of all? You can do all this with an LMS.
Skills evaluation is essential, especially for businesses that want to be future-ready. By evaluating competencies and using employee skills assessment tools, you can identify gaps and understand which areas need more work. But first, you need a learning solution to help develop employee skills. Then, you have to make sure it has the right training assessment tools to prove the effectiveness of each program.
Skills development is certainly one of the corporate culture trends that will impact your workforce in the upcoming years.
To help you, we decided to rank the best skills development and assessment LMS tools for 2023.
Go ahead and see who got first place!
Award-Winning LMS Tools To Assess Skills And Develop Employees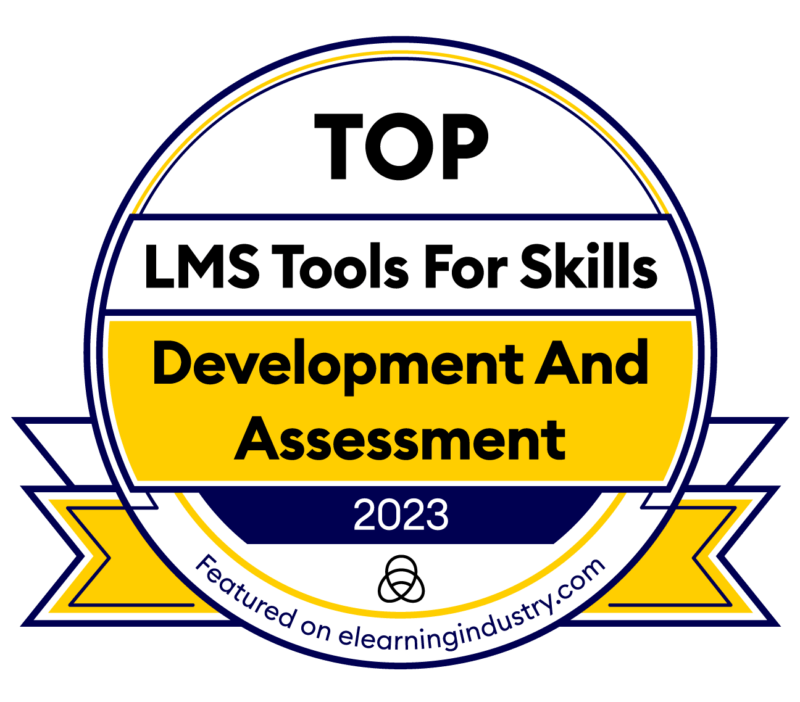 If your company is listed among the best LMSs for Skills Development and Assessment in 2023, feel free to add this badge to your website.
Get All The Tools You Need To Upskill And Assess Your People With TalentLMS
Unlock your team's potential with successful learning on an all-in-one LMS. Join 70K+ teams that trust TalentLMS to build, offer, and track training. And, with an intuitive interface, learning becomes enjoyable and accessible.
Train your teams. Measure results. Drive growth. Start your free TalentLMS account today!
For TalentLMS reviews, feel free to visit our directory.
Highlights
Skip Course Creation
Test Knowledge Transfer
Track Learner Progress
Highlights
Save yourself time, money, and effort. Tack TalentLibrary™ on to your TalentLMS account and get a library of ready-made courses on all the skills your teams need for success at work.
Ensure learning doesn't go to waste. Assess learners with multiple question types and different assignment formats. Plus, you can issue end-of-course surveys so you can improve on what works.
Ditch number crunching and know what's going on in your portal at a glance. Let TalentLMS dive deep into your data so you can easily track training from a dynamic reports dashboard.
Plans And Pricing
Want to test TalentLMS? Forget time-limited trials and asking to use the company card. Start your forever-free account today, no strings attached. And, when you're ready to grow, TalentLMS is ready to go with 8 plans that ensure you never pay for what you don't need.
Upskilling Is Only As Powerful As The Learning Behind It
Skill development is personal. Docebo Skills limits central management and puts the focus back on your people, their current skillsets, and the learning paths to help them fill skills gaps.
Start upskilling your learners today.
Read Docebo reviews by real users. 
Highlights
Upskilling At The Right Time
Simple Integrations
Reporting And Analysis
Highlights
Upskilling At The Right Time
Enable learners to update their skills and knowledge gaps anytime with a solution that adjusts to deliver personalized learning paths in the flow of work.
Integrate Docebo Skills with your HRIS or TMS system to support personalized learning and career paths. This is your chance to give managers the insights they need to fill the gaps strategically.
Create reports on desired upskilling and development opportunities. With Docebo, get insight into the currently available resources. This LMS is ideal if you want to support the growth of individual employees across your organization.
Plans And Pricing
Do you want to enable your workforce to keep up with the future of work? This is a critical need, given how quickly digital transformation and market conditions can impact your business. Skills development and assessment and employee engagement and retention lead to greater organizational agility. Try Docebo Skills and see for yourself!
Leverage Collaborative Learning To Upskill From Within
360Learning empowers companies to upskill from within by turning their experts into champions for employee, customer, and partner growth. Companies accelerate upskilling with internal experts instead of slow top-down training.
360Learning is an ideal learning platform for upskilling and reskilling. Discover how you can upskill from within.
Care to learn more about the User Experience? Check out 360Learning reviews in our directory.
Highlights
Assessments
Certificates
Manager Dashboard
Highlights
More than 10 question types to build flexible and engaging assessments to gauge your learners' knowledge.
Award certificates to learners for newly acquired skills.
Managers can view skills developed by their team.
Plans And Pricing
Developing employees, customers, and partner skills is easy with 360Learning. Create training, deliver it to your learners based on topical or functional areas, and build flexible assessments to test knowledge retention.
Learning Platform That Offers Personalized Learning At Scale
Learning Manager is an AI-based learning platform that offers personalized learning at scale to customers, partners, and employees alike. It comes with features such as a skill matrix, recommendations, social learning, and gamification.
Learning Manager is the preferred upskilling platform for Fortune 500 firms to train customers, partners, and employees at scale.
Make sure to visit our directory and go through the submitted Learning Manager reviews. 
Highlights
The Learning Manager Skill Universe
Skill-Based Recommendation And Learning Paths
Gamification And Social Learning
Highlights
The Learning Manager Skill Universe
Learning Manager has a detailed skill matrix. Administrators can choose from the 10,000+ skills listed within Learning Manager or can import skills, too.
Skill-Based Recommendation And Learning Paths
Learners can get course recommendations based on their skills and interests. Assessment certifications are also designed based on skills.
Gamification And Social Learning
Acquisition of new skills by a learner can also be gratified by using points and badges for new skills. Skill-based social discussion forums also drive engagement.
Achievements
Learning Manager pricing is based on its usage. For a 1000-user use, it can be $99.5 per user/per year. Learning Manager is focused on upskilling with a range of features designed around skills management.
An Easy-To-Use LMS To Streamline Skills Training And Track Learner Performance
iSpring provides robust authoring solutions and online training software for effective in-house skills development. Over 59,000 customers globally use iSpring to spread best practices and run upskilling and reskilling programs. Bridge skills gaps at scale with automated training in the iSpring Learn LMS.
Start a free 30-day trial and deploy iSpring Learn in a snap.
If you want to learn more about the User Experience, visit our directory to read iSpring Learn reviews.
Highlights
Learning Tracks
Recurring Enrollments
Built-In Authoring Tool
Highlights
Upskill your team consistently with complete training programs to be taken in a specific order. The LMS will monitor deadlines, track results, and issue a certificate upon completion.
Reskill employees regularly with automatic re-enrollments. Set the LMS to repeat the needed course or test for specific groups of employees and view their results in detail.
Create online courses with quizzes that users can take from any device. Co-edit learning content with other experts right in the LMS to speed up course creation.
Plans And Pricing
iSpring Learn is a robust LMS for continuous skills development in organizations of any size. It allows learning on all devices and offers flexible pricing, ranging from $2.82 to $3.66 per active user—one who accesses the LMS during a given month.
Create Highly Personalized Learning Experiences With CYPHER LEARNING
CYPHER LEARNING provides a unique product, MATRIX LMS, that makes learning highly personalized. They deliver a learner-centric approach through cutting-edge offerings such as skills development, adaptive learning, and competency-based learning.
Visit cypherlearning.com and learn more about how you can reimagine online education.
If you want to see what other users say, see MATRIX LMS reviews in our directory.
Highlights
CYPHER LEARNING Acts Like A Learning Assistant
The Learning Platform Helps You Upskill Or Prepare For Future Jobs
Easily Track How Learners Master Skills Using The Platform
Highlights
CYPHER LEARNING Acts Like A Learning Assistant
Learning goals can be job titles or competencies. Get recommendations that help achieve goals. Automatically trigger actions when goals are achieved.
The Learning Platform Helps You Upskill Or Prepare For Future Jobs
Get a personalized learning experience. Monitor goal progress over time. Detect at-risk learners based on their performance.
Easily Track How Learners Master Skills Using The Platform
Choose from 16 types of assessments. Track learner progress on a competency basis. Set automated reminders for users who drop below a threshold.
Plans And Pricing
Skills development is a for-fee add-on that helps you reach your career goals. With competency-based learning, you track mastery progress and see an overview of how everyone is reaching their goals. Users can upgrade or downgrade pricing plans for no additional cost.
The Rockstar Learning Platform Accelerates Learning With LMS/LXP Features
Create better learning experiences with ELB Learning. They offer a comprehensive product suite and services to achieve training goals, including an LMS that delivers video-based, microlearning on-demand for rapid skills development.
Get a free account or schedule a demo.
Don't forget to read the Rockstar Learning Platform reviews in our directory.
Highlights
Personalization
User-Generated Content
Easy Management
Highlights
Preassess learners with the integrated Assessment Module to determine each learner's skills gaps, career goals, and interests. Enroll them in recommended courses based on results.
Easily source knowledge from Subject Matter Experts in your organization to share with those who need it. Any user can share text, images, and videos.
Publish to desktop, tablet, and mobile devices. Automate enrollment, set recurring training for compliance, certification, and more. Single sign-on available too.
Plans And Pricing
The Rockstar Learning Platform scales to accommodate any size organization. Including large enterprises that might have offices dispersed all around the world. This learning platform bases its pricing plans on the learner and admin count. In addition, if you wish, you can upgrade your plan with authoring tools, courseware, and data migration.
Holistic Talent Experience Platform Powering The Future-Ready Workforce
Cornerstone unleashes the power of skills for everyone through a skills development solution that delivers immediate and actionable insights. It connects people with the essential skills they need to adapt, grow, and be future-ready. Skills are your compass to success. Build talent with skills you need and develop your people to where the market is evolving.
Request a demo today.
Explore Cornerstone Learning reviews.
Highlights
Trusted Insights
A Common Language
Career Exploration
Highlights
Build dynamic and verified skill profiles and gain insight into your team's skills. Drive action to risk and opportunity.
Connect people's growth with business success. You can detect a person's skills from multiple sources, then intelligently match skills to content and roles.
Empower your people with insights into the skills they need to grow their careers and define their own paths to success.
Plans And Pricing
With skills development at its core, Cornerstone delivers dynamic skill profiles and helps organizations maintain skill assessment, progress, and interest. As a result, they can best connect their people with essential skills needed to thrive in a new world of work.
Bring Learning And Development Together With Schoox's People-First LMS
Connecting learning to career development is key. Hence, Schoox is designed for real learning throughout your organization, from the frontline to the corporate office. Deliver the skills people need, create opportunities for learners to thrive, and take learning to the next level. Do you want to encourage your workforce to upskill and pursue their goals?
Learn how Schoox helps support your organization through continued growth.
Want to learn more about the LMS? Read Schoox LMS reviews in our directory.
Highlights
Make Skills Actionable
Align Learning To Goals
Unite Learning And Performance
Highlights
Create a company-wide skills strategy that helps you discover talent and identify knowledge gaps. It's an ideal tool to personalize learning paths that lead to career advancement.
Now with Schoox you can align your employees and their development with your organization's strategic priorities. Take advantage of goal setting and tracking to bring everything together.
Unite Learning And Performance
This is your chance to inspire your people to be their best. Implement talent development and create a continuous learning culture through career pathing, coaching, and performance reviews.
Plans And Pricing
This platform has everything you need to train your teams and measure results. It's an ideal tool for managers who want to develop the skills people need to pursue opportunities. What I love about Schoox is that it empowers you to provide intuitive user experiences. That way, you amplify Learning and Development for everyone. Start using the platform and watch your learners thrive!
Create Personalized Learning Experiences To Engage Your Learners
The Brainier LMS allows organizations of any size or industry to deliver personalized learning experiences. Best of all, it includes structured learning paths for skills development. Plus, it comes with assessment options for demonstrated behavioral change. Care to learn how using The Brainier LMS gives a competitive advantage to your organization?
Schedule a demo today!
See reviews for The Brainier LMS!
Highlights
Create Custom Learning Tracks
Learning Assessments
Behavioral Change Assessment
Highlights
Create Custom Learning Tracks
Organizations can deliver customized learning tracks to individual learners and groups based on knowledge and skill levels. Administrators can assign additional relevant training to refine skills.
Built into the LMS are Self, 180, and 360 evaluations. Additionally, there's an advanced video coaching tool available. Truly, the latter is a great feature that allows learners to practice and demonstrate their skills.
Behavioral Change Assessment
Learning leaders can assign in-person or virtual assessments of skills/knowledge demonstrations to prove the transfer of knowledge.
Plans And Pricing
Brainier offers a custom plan and pricing options for each opportunity because each organization has unique needs. Notably, it's set at a very competitive price in the marketplace.
Top List Rankings: eLearning Industry's LMS Selection Criteria
Globally recognized LMS experts, including C. Pappas and our editorial team, thoroughly reviewed each vendor's eligibility and relevant published content (articles, eBooks, webinars). Our committee ranked the top Learning Management Systems for skills development and assessment on the following nine criteria:
Customer support
Customer experience
Software features
Software innovation
Customer reviews
Economic growth potential
Company's customer retention
Employee turnover
Company's social responsibility
After checking our top skills development and assessment LMS tools list, you can dive a little deeper by checking some extra tips on how to make your final decision. Use our insights below as a valuable guide to choosing and trying out the ideal LMS software for skills development and assessment. We've also included tips on must-have features for assessment skills tests.
Find Your Ideal LMS Solution
Save time and money. Compare top LMS tools by features, reviews, and rating!
Benefits Of LMS Solutions With Skills Assessment Tools
As corporate learning keeps evolving, almost 80% of organizations use eLearning to help their teams grow. That's yet another reason for companies with many employees working remotely. When scattered around various parts of the globe, you need one centralized solution to take learning to the next level.
By now, you must consider implementing an LMS to make eLearning courses available and accessible for your workforce. Sure, it's amazing to start offering training opportunities to all employees. But there are certain challenges along the way. For one, you must find a way to ensure that each training program meets the learning objectives. Secondly, it's essential to assess if learners have reached the skill levels necessary to help them perform well in their job roles. And that gets more complicated when learners have unprecedented autonomy.
Thankfully, LMS assessment tools can solve all of the above. In fact, it's your go-to tool to understand each learner's mastery level through the eLearning courses. All L&D professionals depend on such assessments. So do managers of different departments in an organization. Why? Well, it's the secret weapon that helps demonstrate to the upper management how effective every training program is. And what effect it has on the company's bottom line.
Let's go a little deeper.
Importance Of Skills Development Tools
Supporting skills development in the workplace is now more important than ever. Even though most employers have lost touch with what employees want, giving skills development opportunities can turn things around.
Did you know that the total cost of hiring a new employee might reach $5,000 or more? Considering that, employers are looking to measure and improve employee satisfaction. Not only do skills development tools alleviate employee turnover, but they also drive more productivity.
In fact, offering skills development tools to your workforce is a proven way to improve how employees feel about your business. Plus, it can lead to employee retention. And it can also help pave the way for company growth, especially if you plan to scale from within.
Thus, it's clear that skills development tools are part of the solution. By investing in professional development and employee growth, you can actually make your business more compelling for top talent.
Importance Of Skills Assessment Tools
There are ways to evaluate your training programs, and you can also check individual learner performance. But first, what is a skills assessment?
When you want to hire, develop, or promote employees for new positions, resumes and interviews give you only a glimpse of what a person can do. Sure, a person's education and experience are something you should consider. And, of course, references provide indicators of someone's skills and experience. However, the best way to understand an individual's abilities and level of proficiency is none other than conducting a skills assessment.
To put it simply, a skills assessment is a way to evaluate an individual's ability when performing a specific skill or set of skills. By evaluating skills, you'll know which participant has mastered something or is entirely a novice.
Skills assessment reports are crucial for managers. Why? Well, they help them understand what kind of skills individuals and teams have. Plus, they help identify areas where training is needed.
You can use a skills assessment test for various hiring and employee development initiatives. For example, in recruiting, career development, Learning and Development, rapid adoption of new skills, or reskilling and upskilling.
Best Practices When Creating LMS Assessments
When creating LMS assessments, there are certain best practices you can follow. All online evaluations bring different challenges along the way. So, instructors must keep an eye on several pitfalls they need to avoid.
I'm sure you'll find the following tips about creating LMS assessments helpful. Firstly, consider allowing multiple attempts. Even when learners get it wrong, multiple attempts will enable them to rethink the question, thus leading to better understanding. Secondly, enriching courses and testing with gamification is vital to keeping learners motivated. Another great tip is to use automated grading options to ease the instructor's workload. Plus, you get to share the results immediately.
Of course, remember to use learning analytics, as they are the key to identifying knowledge gaps. Also, with such comprehensive reports, you can point out a specific program's strong and weak points. Last but not least, use competency-based training. The above is essential for corporate training and development. Primarily because it focuses on creating competencies and building skills that employees need in their job roles.
Most Common Assessment Features Your LMS Should Have To Assess And Develop Learners
Great—now that you've decided you need an LMS for skills development, what's next? Skills development programs are good when they are effective. And to prove that a training program gets the job done, your LMS tool needs certain assessment features. Thus, ensure your eLearning LMS includes the essential tools to evaluate learner progress.
Here are some common LMS assessment features you need to keep an eye on:
1. Learning progress tracker
2. Quiz or exam
3. Learning journal
4. Open-ended or essay-type questions
5. Drag-and-drop activities
6. Dialogue simulation
7. Surveys
8. Forum
Assessment tools in LMS platforms and eLearning courses are crucial. Without this process, you cannot measure a learner's progress and understanding of the content. So, having as many assessment tools as possible gives you more ways to figure out how well your learners have understood what was taught. By making learners take tests or quizzes, you can then evaluate the results and see what worked and what didn't. Not only does it help to understand where your learners are struggling, but it also helps improve your training courses.
Of course, there's much more to learner evaluations than simply using quizzes and grades. By creating relevant and well-constructed assessments, managers and trainers can prepare learners for future success. For example, you can require that learners analyze, engage, and use the knowledge gained to respond to questions, solve issues, or even convey information.
Evaluation Tips When Choosing Development And Skills Assessment LMS Tools
No one said that training and assessing employees is easy. However, when you have the right tools, you can help each employee improve core competencies and become better.
By leveraging an LMS with skills assessment tools, hiring managers can reduce bias and have consistency. Also, it's a great tool for personalized development plans. A skills assessment can certainly pinpoint which areas an employee should improve to be more productive or even get a promotion. Plus, skills assessment tools are great for measuring progress while, at the same time, they improve employee engagement.
Online evaluation tools like skills assessment software are in abundance these days. But how many different tools can you handle? If you want to save the trouble and get a tool that allows you to create a competencies framework and train employees while at the same time offering skills testing, then choose an LMS instead. From pre-hire assessments to skills tracking and developing competencies, by choosing one of the LMS tools on this list, you get a powerful solution.
Not sure which one is ideal for you? Make your own LMS comparison!